Feb 24, 2017
To Stand, or Not to Stand; That is the Question
The standing desk revolution has brought corporate America to its feet. Many organizations now provide standing desks to boost employee engagement and wellbeing. BigSpeak Speakers Bureau is no exception. Recently the company purchased VARIDESK adjustable sit-stand desks to all employees who expressed interest. To those who made the switch, the benefits have been immediately obvious: VARIDESK adjustable standing desks have forever changed the way we work.
Rather than an impersonal litany of the pros and cons of standing desks, hear from our team about their first-hand experiences with their VARIDESK standing desks (Caution: standing at work may result in spontaneous dancing).
Increased productivity and energy
A study from Texas A&M University found that employees who used sit-stand desks were 46% more productive than those who used traditional desks. BigSpeak President Barrett Cordero can attest to those findings:"I have tracked my results and I send more emails and make more calls when I'm standing." Agent Kyle Munger agrees; he says he feels more energized throughout the day when standing.
EOD back and shoulder pain disappears  
Marketing Manager Amber McEldowney says, "I used to have neck, shoulder, and back problems at my previous job where I would be sitting 8 hours a day. Since I've started standing at my desk those issues have been diminished almost completely." A study published by the CDC found that the use of a sit-stand desk reduced upper back and neck pain by 54% after just 4 weeks. Barrett testifies to this, reporting that his back pain has gone away as well.
(Until you get used to standing)Your feet might hurt
Most BigSpeakers reported experiencing minor foot or hip aches at the end of a standing work day, but "nothing that a good stretch can't relieve," says Kyle Munger. Barrett noticed that shoes with a higher sole/heel caused his feet and lower back to hurt, so he purchased The Mat 34 and now his "back and feet feel comfortable and supported all day long."
Standing allows for more freedom (to have dance parties at your desk)
"I'm naturally a little more fidgety and restless," says Amber, "and being able to stand allows me to move more freely than being confined to a seat." Daria encourages, "You can even turn on some music and dance a little bit when you're not on calls!"
Standing vs. sitting for tasks that involve intense focus and concentration
This topic received mixed reviews from BigSpeak staffers. Kyle Munger said he is able to focus best when standing. While Events Manager Daria Wagganer revealed, "I tend to attack data entry-type tasks while standing, and when I really need to concentrate on a call or writing something, I'll sit." Likewise, the research on this topic is mixed as well. Some research suggests that standing up is best for execution focused tasks—like data entry, answering emails, or taking phone calls—while sitting down may be best for tasks that require high levels of concentration or creative thinking. In the end, this one may just come down to personal preference. The best part about VARIDESK is that it allows you to do both.
Having the option to sit or stand is unanimously awesome
"I like to alternate between sitting and standing," Daria says. "It makes the day feel less like I'm on a long plane flight." To obtain the health benefits of standing and reduce the potential adverse effects, the best option is to alternate between sitting and standing. A study conducted at the American College of Sports Medicine found that alternating between sitting and standing will increase muscular contractions, and stimulate blood flow, and result in more calories burnt and healthier blood sugar levels
The key to standing desks is to figure out when to sit and when to stand. Kyle plans his day so that he stands the first four hours and sits the last four. Agent Amy Dernus has got it all figured out. She explains, "I sit in the morning and then before I leave for lunch, I put my desk in the standing position so it's ready for me when I get back from lunch. That way I'm more inclined to stand when I get back."
Also, unlike traditional sitting desks, standing desks are adjustable; and they can be easily positioned on top of our existing standing desks. A lot of chairs and seated desks are sized for the average person's height, but "being much smaller than average," reveals Amber, "might have led to why traditional seated desks (even in school) weren't exactly comfortable for me." "Having a standing desk allows me to adjust it to exactly the right height—no more feet dangling from the chair and feeling like a small child."
Standing feels like the healthier choice
As Amber points out, "There's conflicting research on this. A lot of sources say it's best not to stay in any one position for 8 hours straight." So moving around and alternating from sitting to standing is best. When Daria does sit at her desk, she says she alternates between a chair and a big exercise ball. "It's so much better for blood circulation to get up and stand up for part of the day, my hips, knees, and back thank me for standing up for at least a couple hours each day." Barrett even reports losing a few pounds after switching to a standing desk. A study found that the average adult burns more calories and utilizes 2.5 times higher muscular contraction of the thigh and lower back when sitting.  
Standing desks are an investment
President, Barrett Cordero says, "Standing desks are a long term investment and good for company morale. BigSpeak invested $500 in top of the line chairs and $500 in VARIDESK Pro-Plus Series sit-stand desks for each person. Both are important investments in our people—helping us be more healthy and more engaged at work."
When it comes to answering the question, "To stand, or not to stand?" BigSpeakers resoundingly say "Stand up, sit less, and dance more."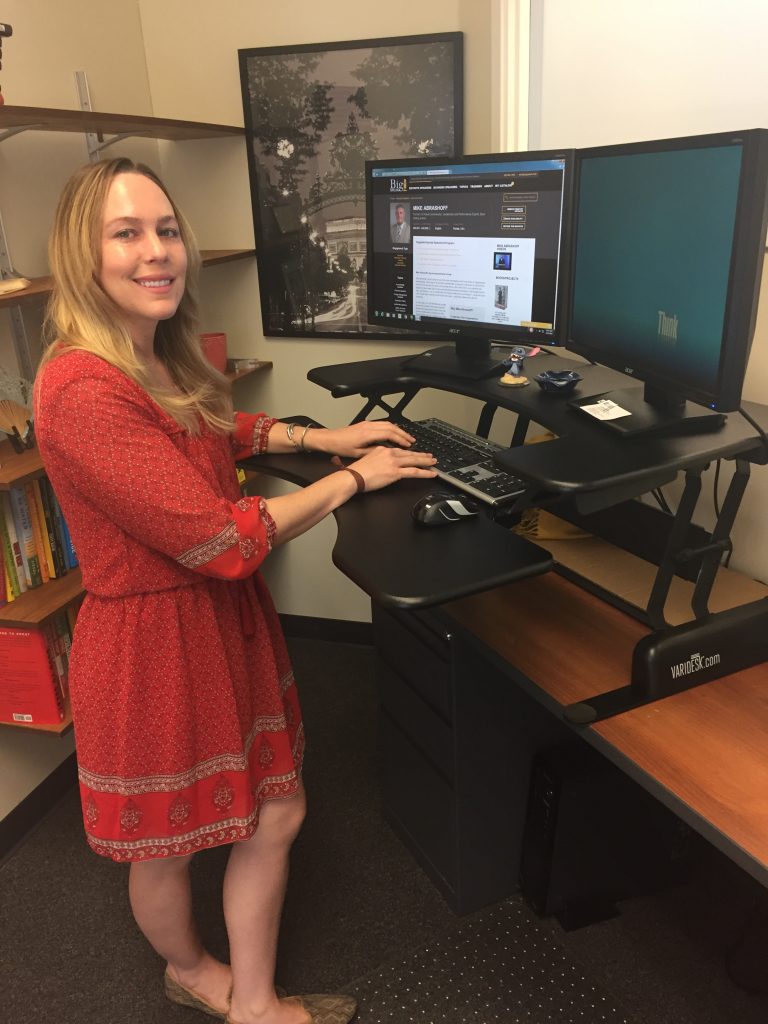 ---
Tasha Harris is the Content Associate at BigSpeak Speakers Bureau. She graduated with honors and a degree in English from the University of California, Santa Barbara.  She also holds a certificate in Publishing from the Denver Publishing Institute at the University of Denver. Contact her at TashaH@BigSpeak.com