Aug 12, 2015
BigSpeak Earns Inc. 5000 Award for Fastest-Growing Private Companies
 BigSpeak Speakers Bureau Recognized for Job Creation and Exceptional Three-Year Sales Growth 
Santa Barbara, August 12, 2015 — Inc.com added Santa Barbara  business, BigSpeak Speakers Bureau on its 34th annual Inc. 5000 –  an exclusive ranking of the nation's fastest-growing private companies. The list represents the most comprehensive look at the most important segment of the economy—America's independent entrepreneurs.
Companies such as Microsoft, Yelp, Pandora, Dell, Domino's Pizza, LinkedIn, Zillow, Oracle, Intuit and Zappos gained early exposure as members of the Inc. 5000.  Aggregate revenue from the 2015 Inc. 5000 list is over $205 billion, generating 647,000 jobs over the past three years.
Located on the "American Riviera" (Santa Barbara), BigSpeak is a full-spectrum speakers bureau, representing the world's finest motivational keynote speakers, consultants, trainers, thought-leaders, world-class athletes, best-selling authors, award-winning entertainers, and global icons. Over 65% of the Fortune 1000 partners BigSpeak to create hundreds of events each year.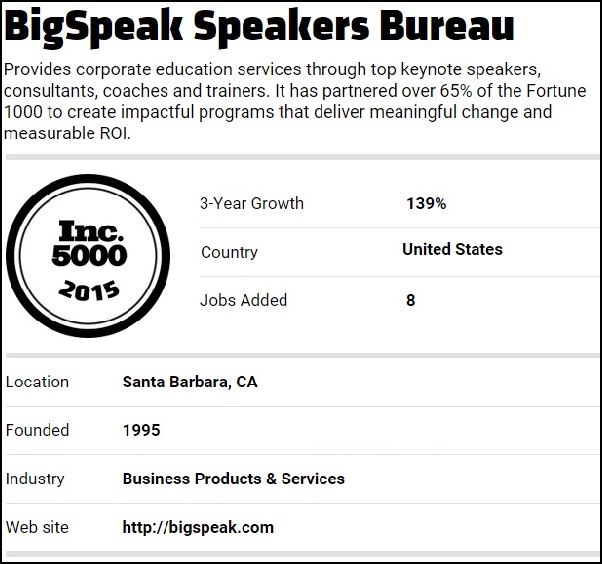 BigSpeak began in CEO Jonathan Wygant's garage two decades ago and has grown tremendously, impacting thousands of businesses and individuals each year with transformational change.  As of July 2015, BigSpeak has served over 4,200,000 audience members with impactful keynotes, training, and coaching that result in proven ROI. Wygant founded BigSpeak to address the unfulfilled need to provide top thought leaders, keynote speakers, professional development programs that are uniquely customized to each client's specific requirements.
This Inc. 5000 award is the second win for CEO, Jonathan Wygant, whose previous company, Iris Arc Crystal, was ranked 281 in the Inc. 500.  Upon notification of BigSpeak's selection to the 2015 Inc. 5000 list, Wygant said, "I am extremely proud of the team's dedication and focus serving our Fortune 1000 clients with excellence that led to rapid and sustainable growth over the last five years. Many companies such as Microsoft, Fidelity, Johnson & Johnson, GE, and Genentech have been clients for nearly 20 years.  We have exciting plans to continue on a similar growth curve over the next five years."
President Barrett Cordero has been at the helm of the tremendous growth, focusing on sales, speaker representation, key investments, disruptive innovations and providing an exceptional work environment. BigSpeak team members enjoy flex-schedules, remote work, pet and child-friendly offices, HSA/FSA health plans, pension plan, profit sharing, and off-site team building trips.
Additionally, frequent visits by celebrities and top business thought leaders allows the company to be in the vanguard of smart, nimble and innovative business practices.  As Senior Vice President Ken Sterling explained, "We eat our own cooking and we are able to recommend top speakers to our F1000 clients because we have worked with them on our own business."
For more information, contact BigSpeak at info@bigspeak.com or (805) 965-1400
---
The content writers at BigSpeak Speakers Bureau are Experts on the Experts. They hold doctoral, masters, and bachelors' degrees in business, writing, literature, and education. Their business thought pieces are published regularly in leading business publications. Working in close association with the top business, entrepreneur, and motivational speakers, BigSpeak content writers are at the forefront of industry trends and research.