BigSpeak Consulting developed as a natural outgrowth of BigSpeak Speakers Bureau, a powerhouse of the world's most influential business speakers headquartered in Santa Barbara, California. Jonathan Wygant, president and CEO, founded BigSpeak Consulting with a deep-rooted interest in expanding the corporate soul. What's next after the feel good results of a keynote speech? Long-lasting improvement and change can be implemented through deeper and more extensive programs.
With BigSpeak Consulting as your corporate education partner, we design programming to meet your business challenges and achieve your strategic goals. Having created custom programs since our inception, we are dedicated to supporting and empowering individuals who face ever-changing demands of the business world in a fast-paced global marketplace. A wellspring of human potential lies within your executive team and workforce.
With no training facilities of our own, BigSpeak Consulting removes any conflict of interest or need to fill seats in our own classrooms. We are fully vested in your success and are focused on working within your parameters to meet your goals. We at BigSpeak Consulting are experts on the experts. We help you devise the most successful program to align with your business strategies whether teaching to key executives, mid-level management, or the teams out on the frontline. We help you manage reciprocity taking into consideration budget, the methodologies used previously vs. those currently desired, various modalities for delivery, educator distinctions, number of participants, program complexity, duration, and resultant requirements.
Budgets for our corporate education programs typically range from $50,000 U.S. dollars to $500,000 U.S. dollars. It is entirely dependent on variables such as the number of participants, length of program, and which experts will be involved in the corporate training programs.
Please view our case studies. These are selective examples to give you an idea of what can be accomplished. The possibilities are endless.
Before creating BigSpeak and Bigspeak Consulting, Jonathan Wygant was the CEO and cofounder of Iris Arc Crystal, an Inc 500 international gift ware manufacturing company. While at Iris Arc, he built the company to 5000 accounts, 120 employees and 135 sales reps nationwide.
Jonathan's ability to generate organizational growth is coupled with a commitment to serving his employees and community. He was invited to the White House by President Reagan in recognition of Iris Arc's Arc Angel community service projects and the story is written up in Chicken Soup for the Soul at Work www.wowzone.com/arcangel.htm.
Jonathan draws on many years of hands-on business experience and extensive research into the best practices of visionary leaders and successful companies. He has developed extensive relationships with our experts, having studied many of their methodologies personally. Jonathan hand-picked a cadre of consultants who are sensitive to client needs and have the ability to match them with trainers who best deliver the messages that support positive, lasting organizational change. In this way organizations are able to adapt, compete, and profit by creating high-performance workplace environments.
Jonathan's team support and leadership at BigSpeak Consulting has created a nurturing and productive workplace for his employees. He is grateful for the opportunity to combine his professional skills with his lifelong passion for self development and culture improvement.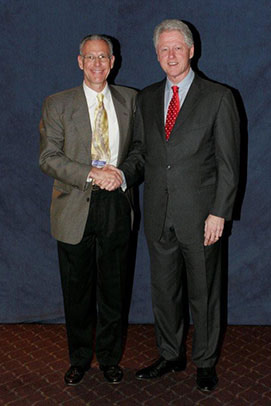 Jonathan Wygant and Bill Clinton
Education:
Master of Arts in applied psychology, University of Santa Monica
Bachelor of Arts in English with an Economics minor, Hamilton College