Nov 19, 2013
BigMinds: BigSpeak Speakers Who Made the Thinkers 50
Thinkers of the world unite! Last week at a gala dinner in London, The Thinkers 50 – the premier ranking of the top global business, management, strategy and leadership thinkers – announced this year's inductees. Often described as the "Oscars of Management Thinking," the global ranking is published every two years and is the quintessential guide to the world's top business gurus. Winners are chosen based on ten established criteria: originality of ideas; practicality of ideas; presentation style; written communication; loyalty of followers; business sense; international outlook; rigor of research; impact of ideas and the ever-elusive "guru factor."

This year, not surprisingly, the number one spot went to Harvard Business School disruptive innovation expert, Clayton Christensen. Happily, the list also saw more women added to its ranks including our own Liz Wiseman as well as other new additions like global strategist Anil Gupta and Dartmouth business professor Syd Finkelstein. Below is the list of this year's BigSpeak experts and their respective rankings:
3) Roger Martin
5) Vijay Govindarajan
6) Rita McGrath
10) Marshall Goldsmith
18) Marcus Buckingham
19) Gary Hamel
20) Nirmalya Kumar
23 ) Richard Rumelt
24 ) Jeffrey Pfeffer
27) Stewart Friedman
30) David Ulrich
32) John Kotter
40) Subir Chowdhury
43) Sydney Finkelstein
44 ) Anil Gupta
48) Liz Wiseman
Additional Distinguished Achievement awards went to Rita McGrath forStrategy, Navi Radjou for Innovation, and Roger Martin for Best BookPlaying to Win, while marketing guru Philip Kotler and Balanced Scorecardco-creator David Norton were inducted into the inaugural class of the Thinkers 50 Hall of Fame (Find the complete Thinkers 50 list here)
BigSpeak congratulates these distinguished thinkers whose contributions to management thinking have shaped the global mindset for today's business. Not only are they gifted thinkers (as evidenced by how they grasp their chins in portrait photos), but accomplished speakers as well.
We're proud to represent these renowned Thinkers50 speakers, authors and thought leaders and deliver their vanguard leadership and management programs, groundbreaking ideas and dynamic presentations to our clients. Contact us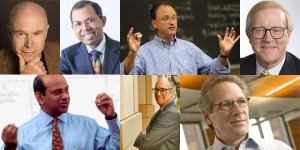 ---
The content writers at BigSpeak Speakers Bureau are Experts on the Experts. They hold doctoral, masters, and bachelors' degrees in business, writing, literature, and education. Their business thought pieces are published regularly in leading business publications. Working in close association with the top business, entrepreneur, and motivational speakers, BigSpeak content writers are at the forefront of industry trends and research. r details on how we can bring the best of the big thinkers to your next event.