Dec 2, 2014
Big Risk/Big Leadership: Thomas Kolditz Busy on Many Fronts
Lately we've seen quite a bit of interest in the topic of leadership in extreme contexts. Our own exclusive speaker, Brigadier General-turned-Yale Business Professor, Thomas Kolditz has been busy lately on multiple fronts.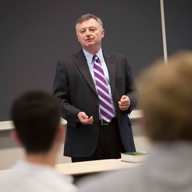 Forged on both battlefields and in boardrooms,Thomas Kolditz possesses unique and distinct leadership acumen – – that you won't find anywhere else. In demand from the highest levels of global leadership, to the nation's top business schools
 
Before coming to the Yale School of Management, Kolditz, a retired Brigadier General and titled Professor Emeritus by the U.S. Military Academy, led the Department of Behavioral Sciences and Leadership at West Point for 12 years. He also served for two years as a leadership and human resources policy analyst in the Pentagon, and a year as a concept developer in the Center for Army Leadership. Adding an extra dimension of In Extremis to his resume, General Kolditz served as the senior instructor for the West Point Sport Parachute Team as well.
An internationally recognized expert on crisis leadership and leadership in extreme contexts, Kolditz is active in the development of programs for leadership and leader development in everything from project teams to large organizations.
Leadership: Leading as if Your Life Depended on It has gone big in China and will be re-released and updated with new cover art.  You may also have seen Gen. Kolditz speaking about extreme leadership on this month's edition of 60 Minutes Sports, with Everest mountaineer Alison Levine, currently airing on Showtime.  

Additionally, with the recent uprising in the Ukraine, General Kolditz has been called upon to participate in the Ukrainian Leadership Summit. Kolditz will present Building Trust in Uncertain Contexts during this two-day event in October, where top scholars and local and regional business leaders will come together to share their knowledge and expertise to support leadership development in this emerging country's time of need. According to Kolditz, "The country needs leaders who people willingly trust in conditions of threat and uncertainty. Conditions are in extremis: a matter of life and death." While stability in the region is contingent on many factors, leadership is seen as the crucial element that could settle separatists' disputes.