Jul 18, 2011
Big Swing: Sports Psychologist Bob Rotella Helps Darren Clarke Win
Sunday, Darren Clarke became the third Northern Irishman to secure one of golf's four majors in the last 13 months by winning the prestigious British Open. His secret weapon: BigSpeak performance expert and renowned sports psychologist Bob Rotella. According to UK media outlets, Clarke attributed his turnaround in fortunes to a quick chat with the celebrated golf psychologist – and hours later, emerged as an Open contender.
The 42-year-old Clarke bumped into Rotella earlier in the week, having worked with him previously, and after a couple of pointers went out and shot a two-under 68 to put himself on the first page of the leaderboard.
Clarke hasn't finished in the top 40 in his last five events, and felt pleased with his performance, stating, "I've been lucky this week as I've seen an old friend of mine, Bob Rotella."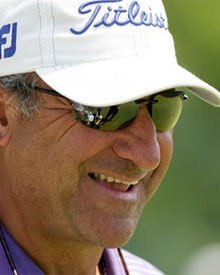 This isn't the first time Rotella has worked his magic at the Open, coaching 2007 champion Padraig Harrington, in addition to other major tournament victors, including Ernie Els and Trevor Immelman. Congrats, Bob, on another spectacular triumph!