Dec 3, 2014
Big Tour: Ben Casnocha and LinkedIn Founder Reid Hoffman are Disrupting Employee/Manager Relationship
How Ben Casnocha and LinkedIn Founder Reid Hoffman are Disrupting the Employee/Manager Relationship
Two weeks ago, the BigSpeak team was privileged to witness a masterful display of raconteuring prowess by best-selling author Malcolm Gladwell as he swung through Santa Barbara. Speaking on his latest work, David and Goliath, he explained that the driving question behind the book was, "Why do people choose to rebel?" Utilizing two disparate examples of rebellion, including "The Troubles" in Northern Ireland and a gold-digging, turn of the century socialite suffragette, he wove an intriguing case against traditional deterrence theory – a type of risk/benefit analysis in which individuals or groups decide that the potential risks of rebellion outweigh the benefits. Gladwell feels a better explanation is " legitimacy theory" which posits that three conditions must exist (or not, in the case of uprising) for compliance with authority: if a group feels the system is fair, if they feel respected, and if the authority is deemed trustworthy.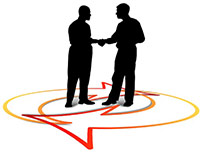 The post-presentation Q & A was dominated by young college students and millennials, many of whom cited Gladwell's earlier bookOutliers as a particularly strong influence and questioned the author on his career path and early life choices (one even sported a "10,000 Hours" tattoo – a reference to the Outliers concept of the time it takes to achieve perfection and success in a chosen endeavor).

So, how does all of this relate to you and your organization? Also visiting our town recently was speaker, author and tech entrepreneur Ben Casnocha. Ben has noted that this fickle and uncertain spirit exhibited by the students at Gladwell's presentation is also pervasive in the mindset of today's emerging young workforce, where new hires often stay with companies an average of two years or less before moving on, presenting corporations with a challenging new HR dynamic. Gone are the days of guaranteed long-term employment in a business environment that today, is defined by continuous change.

Ben's latest book (set to hit shelves in July) entitled The Alliance: Managing Talent in the Networked Age and co-authored with LinkedIn founder Reid Hoffman,
upends the standard employee/manager relationship and challenges the time-honored notion of employees considered either family or free agents, but instead, seen as allies.
"As a manager you want your employees to help transform the company for the future. And your employees want the firm to help transform their careers for the long term. But this win-win scenario will only happen if both sides trust each other enough to commit to mutual investment and mutual benefit."
Casnocha suggests implementing what he terms "tours of duty," similar to the military deployment model. Allowing for the realities of the modern economy, the alliance begins with managers acknowledging that great employees might leave the company, and with employees being honest about their own career aspirations. Employees and managers then create a pact (tour) based on reciprocal expectations that are mutually beneficial to employee and company and can be completed in a realistic period of time.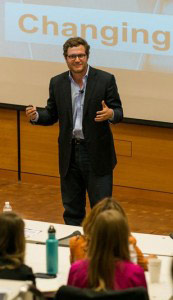 By placing this new alliance at the heart of their talent management strategies, companies will not only bring back trust, they'll be able to recruit and retain the entrepreneurial individuals needed to adapt to a fast-changing world and reduce the costs of constant, unexpected turnover (which estimates place at over 5 trillion dollars annually in the US). 
Through his book and presentations, Ben provides a bold but realistic and practical guide for managers and executives, while equipping them with the tools needed to recruit, manage, and retain the kind of employees who will make a company thrive in today's world of constant innovation and fast-paced change.
For more information on bringing Ben Casnocha and The Alliance to your organization, give us a call.