Dec 4, 2011
BigGift: Jon Bul Dau Brings Sight to Sudan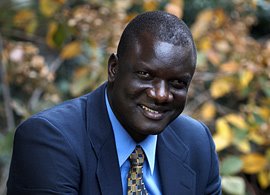 Born in war-torn Sudan, BigSpeak's John Bul Dau has experienced challenges in his life that most people never imagine. One of 27,000 "Lost Boys of Sudan," driven from their villages when the northern Arab government attacked the ethnic minority population of Southern Sudan in 1987, John Bul Dau led groups of displaced boys across Sudan for hundreds of miles facing starvation, disease, and violence.
Today, John Bul Dau is a compelling motivational speaker whose life is defined by his uncompromising commitment to the future of his native country, as evidenced in an inspirational holiday update he sent to our offices today:
"WOW! I cannot begin to say how happy I have been for the last three days!  
We have world-renowned eye surgeons plus four other doctors who've flown in to our dirt airstrip near Duk Lost Boys Clinic in Duk County in a Cessna Caravan plane. These selfless doctors have been performing at least 178 eye surgeries as of today to restore sight. 
Watching these patients celebrate after the 'Miracle' doctors take the patches from their eyes and they can see after being blind is awesome!
I have watched many, many of these patients jumping up in celebration, singing their songs, seeing their loved ones again after long time of blindness, and embracing the doctors ."
The Duk Lost Boys Clinic opened in 2007 to serve people of Duk Payeul in the State of Jonglei, Southern Sudan. By February 2009, it had provided care to more than 20,000 patients. All this in an area where there was no medical doctor for 75 miles and where virtually all travel is on foot.