Oct 11, 2016
BigSpeak Makes Pacific Coast Business Times 50-Fastest Growing Companies List
 BigSpeak, the leading business speakers bureau, has been recognized and ranked on this year's Pacific Coast Business Times list of 50-fastest growing companies on California's central coast. BigSpeak is among the top 50% of the group, ranking 23rd on the list. BigSpeak has ranked on Inc.'s 5000 National Fastest-Growing Companies list for the past two years in a row this is the company's first year on the Pacific Coast Business Times list.
The Pacific Coast Business Times 50-Fastest Growing Companies list ranks companies in the Tri-Counties of Ventura, San Luis Obispo, and Santa Barbara by revenue growth over the past three years. The list represents both public and private firms who have gross revenue of $5 million or more.
BigSpeak has expanded exponentially in the past 3 years. During this time the company's growth rate nearly doubled and they have already exceeded their revenue from last year. BigSpeak has also welcomed 11 new members to the team since 2014.
President of BigSpeak, Barrett Cordero shared, "BigSpeak is a hard-charging, non-stop, 24/7 speakers agency that serves clients globally and locally. The last three years of growth have been exciting and are a direct reflection of the dedication and service our team provides to each client. We appreciate the local recognition and look forward to expanding our headquarters here in Santa Barbara."
BigSpeak joins local Santa Barbara companies, TrackR, AppFolio, Procore Technologies, Invoca,  Figueroa Mountain Brew Co., Mission Wealth, CIO Solutions, and Deckers, respectively, who have also made the list. Additional notable companies on the list from the tri-country area include SAGE Publishing, Amgen, and Patagonia.
The 50 ranked companies will be honored in an awards event at the Deckers rotunda in Santa Barbara this week on October 13th. Figueroa Mountain Brew Co. will be providing craft beers at the Oktoberfest themed event. 
For more information about the event, or to purchase tickets, click here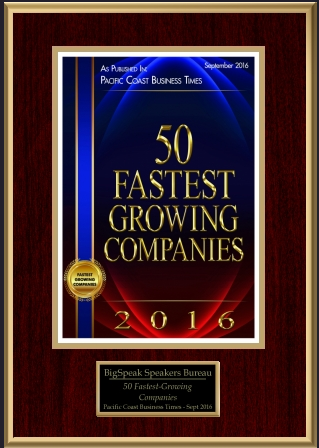 ---
The content writers at BigSpeak Speakers Bureau are Experts on the Experts. They hold doctoral, masters, and bachelors' degrees in business, writing, literature, and education. Their business thought pieces are published regularly in leading business publications. Working in close association with the top business, entrepreneur, and motivational speakers, BigSpeak content writers are at the forefront of industry trends and research.