Jul 13, 2017
BigSpotlight: Colin O'Brady, Endurance Athlete & Two-Time Mountaineering World Record Holder
Colin O'Brady is a professional endurance athlete who holds two world records: the speed record for the Explorers Grand Slam and Seven Summits. Completing the slam entails climbing each of the Seven Summits including Mt. Everest, and skiing the last degree of latitude to the North and South Poles.
Fun Fact: Colin is the first person to SnapChat from the summit of Everest.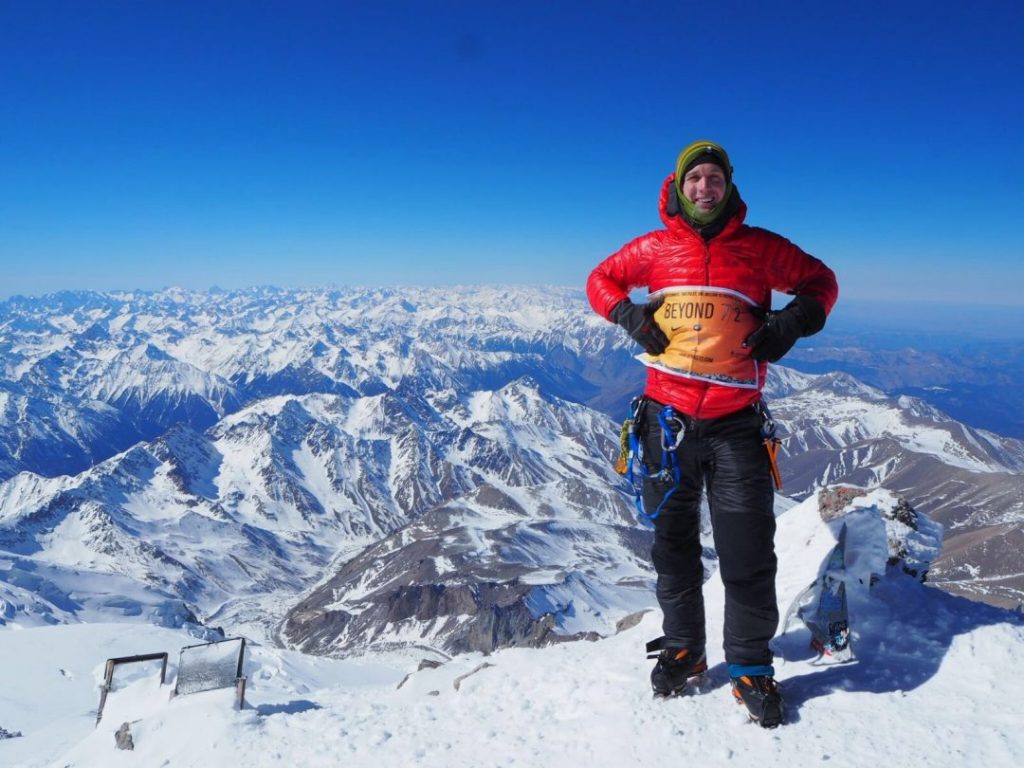 The Explorers Grand Slam wasn't Colin's hardest challenge. In 2008, while traveling, Colin suffered a near-tragic burn injury that severely damaged his legs and feet. Doctors told him he might never walk normally again.
Once he returned home, Colin's Mom set a chair one step away from his wheelchair encouraging him to take his first steps. The next day the chair was five steps away and the following day, ten. Step by step, Colin regained his strength and ability to walk. He decided to set a goal for himself: to complete a triathlon, a feat he had never done before. 18 months after his injury, Colin not only completed his first triathlon but also won it. He went on to race professionally, representing the USA across the globe.
Six years and an illustrious Triathlon career later, Colin completed the Explorer's Grand Slam in a record-setting 139 days (beating the previous record of 192 days by 53 days). Again, conquering a feat comprised of challenges he had never experienced before. Fewer than 50 people have ever completed this staggering achievement and only four in under a year.
Colin O'Brady's keynotes incorporate the topics of:
Grit and perseverance: Knowing first hand what it takes to overcome a serious setback. Colin speaks on peak performance, mental toughness, pursuing your passion, and pushing limits.  
Social media marketing strategy: Colin utilized social media to build buzz around his journey and gain sponsorships from Nike and Columbia, among others.

Entrepreneurship: Colin is a Yale graduate who worked on Wall Street as a commodities trader. 

His entrepreneurial spirit and knowledge of business principles enabled his world record success. More importantly, the lessons he has gained from his adventures are directly transferable to the qualities needed to succeed in business.

Healthy lifestyles for kids: Colin's non-profit

Beyond 7/2

aims to inspire kids and their communities to dream big and set goals while promoting an active and healthy lifestyle to achieve happiness and success.
Check out Colin's recent TEDx Talk to hear more about his incredible journey
Howell Wechsler, EdD, MPH Chief Executive Officer Alliance for a Healthier Generation says:
"Colin O'Brady is not only the greatest explorer of the 21st century, he's one of the best examples of the strength of the human body and spirit. What he has achieved pushes the limits of what we think is possible. I had the pleasure of hearing Colin speak to a room of approximately 350 people. Colin had the audience captivated from the moment he took the stage. He was savvy enough to tailor his jaw-dropping story to our audience…He is deeply moving, humble, and makes every step of his remarkable journey relatable and inspiring….The power of his presentation continues to move me and is one that would truly benefit any audience."
For more information on Colin O'Brady or to book him for your next keynote, email us at Info@BigSpeak.com
---
The content writers at BigSpeak Speakers Bureau are Experts on the Experts. They hold doctoral, masters, and bachelors' degrees in business, writing, literature, and education. Their business thought pieces are published regularly in leading business publications. Working in close association with the top business, entrepreneur, and motivational speakers, BigSpeak content writers are at the forefront of industry trends and research.