Nov 5, 2018
Colin O'Brady's Impossible First
In a world where everything's been done before, how can you push the limits and find your way into uncharted territories? Adventure-seeker Colin O'Brady wanted to push himself and our conception of impossible by taking on one of the last "world first" challenges.
For the first time in history, he is attempting to cross Antarctica—solo, unsupported and unaided. He departed on November 1, 2018 from the northern coast, dragging a 400 pound sled of supplies, and is expected to reach the southern coast around January 10, 2019.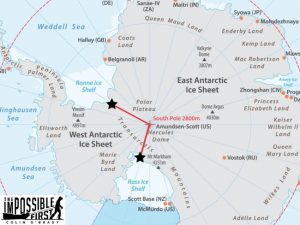 His solo journey over 1000 miles in 70 days is a true test of human limits. He has trained mentally, physically, and spiritually to conquer one of the last remaining iconic "firsts" in exploration. He completed a 30-day, 400-mile practice run with a sled in Greenland and has put on twenty pounds of muscle.
He hopes that in taking on this challenge he will inspire others to reconsider what they thought to be impossible. There are no dreams too big to warrant the title impossible.
To hear about his journey to the starting line watch his video.
---
Jessica Welch is the Content Marketing Associate at BigSpeak Speakers Bureau, holding a Bachelor's Degree in English Literature and Anthropology from California Polytechnic State University, San Luis Obispo. Her business thought articles often appear on Business 2 Community, Born 2 Invest, and YF Entrepreneurs.