Dec 6, 2017
The Future of the Zero Dollar Car
Your next car could be free by selling your car sensor data.
In the future, your next car payment could be nothing. According to technology and futurist speaker John Ellis in his book The Zero Dollar Car, cars could cost nothing if customers sell their car sensor data.
Ellis knows how valuable your car sensor data is, having worked as a Global Technologist and Head of the Ford Developer Program. While working for Ford, he helped developed the SmartDeviceLink, the open source version of Ford's award-winning AppLink technology.
In his talk on the Zero Dollar Car, Ellis proposes that in exchange for your car sensor data, you could receive large discounts to the base price of your car. The sum total of these discounts could bring the price of a $40,000 car down to zero.
How is this possible? Well, lots of agencies need or want the data your car sensors collect. Think Google, Apple, insurance companies, and everyone who wants to advertise to you. They all have a stake in your car sensor data.
In fact, Google has already filed a patent to develop this idea: "System and method for providing content to vehicles in exchange for vehicle information."
There are five areas that your car sensor data could provide large discounts on a future car purchase: weather, suspension, traffic, in-car microphone, and ecosystem data.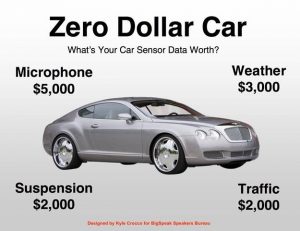 Weather data
For $3,000, you could sell your weather-related data to government and private agencies interested in monitoring weather conditions. Data would be collected by the sensors for your traction control, headlights, clock, wipers, and barometer.
Suspension data
For $2,000, you could sell your suspension related data to highway agencies interested in road conditions. This data could inform agencies when your car rides over rough or smooth roads, so they would know when roads needed to be repaired and where to repair them.
Traffic data
For $2,000, you could agree to send your traffic condition data. This data would show your car speed and traffic conditions collected from your speedometer and car cameras.
Microphone data
For $5,000, you might be willing to send your in-car microphone data. Groups with digital voice assistants would want to know what you talked about when driving so they could help with perfecting navigation routes as well as learning where are the best places to eat, shop, and find fuel.
Ecosystem data
Finally, you might share your ecosystem data for additional discounts to bring the price of your car down to zero. Ecosystem data is all about discovering what people are doing in the car when they are traveling, especially in the future when there are driverless cars. Groups might want to learn what you are watching, searching for, or playing with on your tablets and phones.
Ellis explains these discounts will be feasible as soon as people understand the true value of their car sensor data and use their influence to create deals with agencies who want the data. 
At this point automakers and auto dealers have not realized the potential of selling the data nor acted accordingly to promote car sensor data sales. Once they do. Say hello to the zero dollar car.
---
Kyle Crocco is the Marketing Coordinator for BigSpeak, has a Ph.D. in Education from UCSB, and he made that cool infographic in this article.