Oct 23, 2017
Great Ideas to Turn Your Event into an Experience
People remember more and for far longer when they are engaged. However, most events tend to be the same—same booths, same swag, same PowerPoints with a list of too many bullet points. After a few days, a person's only memory of your event will be the name badge they didn't throw away yet.
If you want to make your event stand out and be remembered for a long time, make it an experiential event.
What is an experiential event?
Like experiential marketing, an experiential event is a method to engage your audience with your brand. The idea is to engage attendees with events that are interactive, participatory, and hands-on.
There are three ways you can engage your attendees for an experiential event: Use multi-sensory experiences, have more human interaction, and use social media.
Creative examples of great experiential events
However, if you want to get really creative, you can be inspired by three of these 20 great experiential marketing ideas at events around the U.S.
At SXSW 2017, Oreos combined Twitter, 3D printing, and an oreo cookie to create a unique experience. The 3D printer created a personal oreo cookie made for the attendee from whatever flavor was trending on Twitter at the moment. This method made the experience hands on and interactive.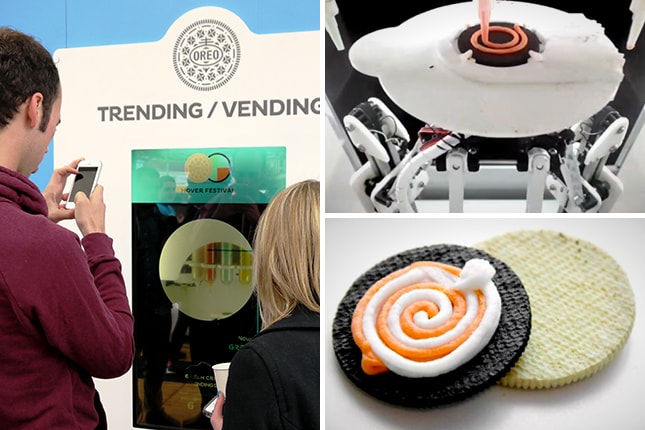 HBO used the popular idea of the Escape Room to engage other attendees at SXSW 2017. Each room was designed after one of their popular shows, such as Game of Thrones. There's nothing more engaging than having attendees work together to solve a problem—and get a reward for doing so.
At the 2014 US Open, American Express engaged attendees by giving them RFID-enabled wristbands that recorded the attendees on-site experiences and sent them a personalized email. Fans could also interact in the text cafe and charge their phones at the same time.
Gifted and inclusive keynote speakers can also make your event an experience. These dynamic speakers use technology, interactive demonstrations, and audience participation to get people involved.
Take top innovation speaker Tan Le, for example. She uses interactive technology to add a hands-on element to her events. Le gets the audience members involved—and focused on innovation —by using her Emotiv headset to give a live "mind reading" demonstration.
Top cybersecurity speaker Kevin Mitnick , on the other hand, likes to offer a customized keynote to give his audience an experience. Using pre-arranged questions from the client, Mitnick gives a hacking demonstration to illustrate the key answers and event messaging.
If you're looking for an experience without technology, look no farther than top-5 after-dinner speaker Adam Christing. Christing's specialty is using humor, magic, and improve games to get audience members on stage and involved and having fun.
But don't worry! You don't always need high tech to be experiential. You just have to make your event interactive. You can add games, such as a simple low-tech roulette wheel to get attendees moving and participating in your brand, or have a speaker use storytelling and theater techniques like Chic Streetman to get audience members involved.
Whatever it is, make it fun and unique and people will remember your event for a long time.
Also See:
How to Create an Experiential Event
---
Kyle Crocco is an East Coast native and content creator for Big Speak. His career has taken him from authoring the Heroes, Inc. series, to living and teaching abroad in France and China, to completing his Ph.D. in Education at the University of California-Santa Barbara. He is also the lead singer for Duh Professors, a local Santa Barbara band.