Jan 3, 2018
Jane Chen's Entrepreneurship is Saving Babies' Lives
Jane Chen's social enterprise, Embrace Innovations, is saving babies' lives in 20 different countries, while keeping your baby healthy and happy in its crib.
Jane Chen traveled from village to village in rural India meeting women at every stop who had lost babies. One woman had lost all three of her babies due to premature births and a lack of access to medical treatment. While hearing these women's stories of their desperate attempts to give their babies the medical attention needed Chen determined she would help.
Embrace Innovations started as a non-profit, providing remote villages in developing countries with low-cost, user-friendly incubator technology that is necessary for premature babies to survive and develop normally. She created Embrace infant warmers, which resemble tiny sleeping bags, after working with various non-profits abroad and seeing the continuous devastation of premature births ending in death from hypothermia.
"No baby should die from being cold." — Jane Chen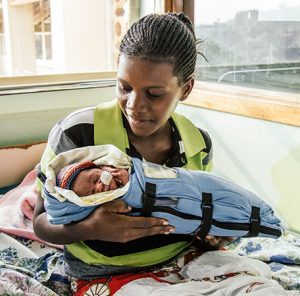 As she cut through one red tape after the next, her non-profit began to transform into a more sustainable model. Alongside her co-founder, Chen launched Little Lotus Baby, a baby product line for the US market that uses a "TOMS-like" buy-one, give-one model.
These baby products use the same NASA-inspired technology found in the Embrace infant warmers to keep the baby's body temperature constant, proven to give the child up to an hour more of uninterrupted sleep.
Chen's innovative enterprise began by saving thousands of lives on a global level, but she didn't stop there. With the goal of localizing technology and using her creative spirit to help others, she knew there had to be a more productive way to save even more lives.
She witnessed the power of parenthood while introducing Embrace infant warmers to villages and knew its strength. This inspired her to create a global community where parents helping parents is possible, no matter the distance.
The Driving Cause
Chen inspires this unstoppable drive in others when she asks, "What is your cathedral?" People dedicate their lives to building cathedrals that won't be finished in their lifetime, but they do it because they believe in a cause greater than themselves. She wants you to examine your life and wonder what will your legacy be?
If you are moved through life by the question of "Why?" you're on the right track. Chen feels that our time is best spent chasing after a deep sense of why- why are we here, why are we doing this or that, and why is our time so valuable?
How to Chase it
For Chen, her 'why' was clear with Embrace Innovations, but what was more difficult was learning to embrace impermanence. She claims that she owes a lot of her business prowess to her passion for surfing and her relationship with the ocean.
Surfing taught her to let go of outcomes and stop hanging her identity on your expectations. From spending time in the water, she saw how something can instantly shift in your favor, but just as quickly turn against you. When it came to her business, she encountered many obstacles that could have easily been the end of Embrace, but with ebb and flow in mind she persevered and created a new outcome for her business.
She now expects Embrace Innovations to save 1,000,000 babies around the world in 2018, but she knows this number depends on how she handles the forever changing tides.
---
Jessica Welch is the Content Marketing Associate at BigSpeak Speakers Bureau, holding a Bachelor's Degree in English Literature and Anthropology from California Polytechnic State University, San Luis Obispo. Her business thought articles often appear on Business 2 Community, Born 2 Invest, and YF Entrepreneurs.