Sep 11, 2014
Magic Johnson in the BigSpeak Office
NBA Hall of Famer, entrepreneur, and philanthropist Earvin "Magic" Johnson was in Santa Barbara yesterday and stopped by the BigSpeak office to speak on leadership and the importance of being the best. Magic Johnson's key takeaways from his talk were to strive to be the best in class, over deliver on your promises, and always remember that reputation is everything. In any industry, as well as in personal life, these three elements can ensure you continued and lasting success.

As always, it was great to have Magic Johnson share his wisdom with us.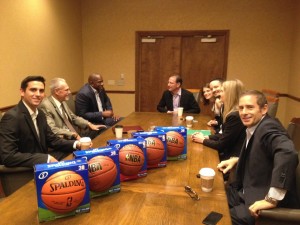 ---
The content writers at BigSpeak Speakers Bureau are Experts on the Experts. They hold doctoral, masters, and bachelors' degrees in business, writing, literature, and education. Their business thought pieces are published regularly in leading business publications. Working in close association with the top business, entrepreneur, and motivational speakers, BigSpeak content writers are at the forefront of industry trends and research.