Aug 10, 2016
Netflix: A Success Story – Words of Entrepreneurial Wisdom from the Founding Team Members
Innovation, company culture, and stellar stock performance are qualities that have placed Netflix on Fortune's "World's Most Admired Top 50 All-Stars" list earlier this year. But it wasn't always that way. Marc Ranldoph, co-founder of Netflix, stated in an interview that the silicon valley startup in 1997 hardly resembled the mega-monster it is today. He said their primary revenue came from late fees and DVD sales–they had to innovate and adapt to disrupt the emerging digital sector. Randolph, as well as Founding Executive Mitch Lowe, and former CTO (Chief Talent Officer), Patty McCord, have described the immense amount of focus, innovation, risk, marketing, and motivation it took to get the company to where it is today. Today, Netflix is the world's leading Internet television network with over 83 million members in over 190 countries enjoying more than 125 million hours of TV shows and movies per day, including original series, documentaries, and feature films.
Here are some lessons from the guys who started it all:
Collaboration
Randolph explains the importance of collaboration and teamwork, especially in the early phases of starting a company. He stated "one of the things that makes startups successful is when they have…co-founders rather than single founders because they can bounce things off each other." Randolph describes how he and Co-Founder Reed Hastings worked together as a team to come up with some of the ideas that would eventually evolve Netflix as a company, he said that he and Hastings "thought very similarly about a lot of these things and one of the things we shared is that relentless optimism, coupled with paranoia that entrepreneurs have."
 Core Values
McCord suggested, rather than writing a cultural document using tired and worn-out words like "excellence" and "respect", to "write down the things we expect in people".  This led to a document known as "Netflix Culture: Freedom & Responsibility" which Sheryl Sandberg called "the most important document to ever come out of [Silicon] valley".  McCord runs things with a built-in expectation of high performance and radical honesty, even if that means letting go of those who are not up to par. Ultimately, McCord says that great talent managers think like business people and innovators first, and like HR people last.
Focus & Analytics
Both Randolph and Lowe have stated the importance of focusing most intensely on the things you can be "absolutely best at," and dropping the others. Lowe told a story about how Reed Hastings once jettisoned a $25,000,000 revenue stream for Netflix for the sake of keeping focus; and that strategy ended up making the company a substantially greater amount of revenue in the long run. Randolph explains how in the early days of the company, an immense amount of focus was spent on testing, being metrically driven, and determining the two or three things you have to get right. Lowe puts analytics as the #2 most important thing he's learned from building a successful company. He says to "use analytics directionally; don't worry if they're 100% sure, just use them to point you in a direction".
Innovation
"You have to disrupt yourself, before someone disrupts you" Randolph says as he recalls having to quickly adapt and innovate to translate the DVD service to a digital platform once things went digital. Not only did they innovate quickly, but according to Clayton Christensen, they exuded a form of disruptive innovation by appealing to an audience and providing a service unmatched by its top competitors. Christensen defines a disruptive company as one that "targets segments of the population that have been overlooked by its competitors, delivering an inferior (but more tailored) alternative, often at a lower price". It was this quick adaptation that ultimately led Netflix to outperform their major competitors and disrupt the entertainment industry for years to come.
Customer Service and Speed
Lowe explained that the speed of delivery (i.e. how fast a customer received their DVD) was a major factor in customer acquisition and loyalty early on. He noted that's why Netflix switched to streaming as soon as it became digitally available. It was the fastest way for customers to access their product. Especially now, when people have much quicker access to just about everything, customers expect and demand speedy product delivery and customer service. He noted that other giant online retailers such as Amazon are doing well using this same strategy.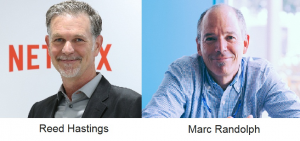 ---
To bring an HR or entrepreneur speaker such as one of the early Netflix team members to your next event or conference, contact BigSpeak at (805) 965-1400 or info@bigspeak.com