Feb 6, 2017
Personal Development: The Job of a Lifetime
Personal Development
Most people understand the importance of investing in their financial future, but few understand how vital it is to invest in their own personal development. Doing so is not only valuable on a personal level, but can be the catalyst to your professional growth and success.
Personal development has been the cornerstone of the BigSpeak foundation since day one. It was at a personal development seminar at the seaside retreat of Esalen in Big Sur, that founder and CEO Jonathan Wygant was first inspired to bring the top personal development coaches and teachers together under one roof. He recounts that it was his vision to make "it easy for anyone who wanted greater self understanding to find in one location all the resources they would need to better themselves."
Today, continuous personal development is proving even more valuable to business professionals than ever before. As tech and AI advance to the point where they will soon take over many "hard" skills– such as, data analysis and entry, and software or foreign language proficiency– "soft" skills are becoming increasingly valuable.
Futurist and technology expert Erica Orange predicts "up to 44% of jobs may be computer automated within the next decade (25% within the next 5 years)." Erica assures, in a world where machines take over many manual tasks, "soft skills that are less easy to automate will become top currency."
Soft skills–which include interpersonal skills such as emotional intelligence, relationship-building, collaboration, empathy, and cultural sensitivity–are also particularly valuable to leaders who need to be able to effectively communicate with their team and perceive the subtleties in their responses, as well as accurately gauge team morale.
The top thought leaders and business growth experts agree that for a business to succeed learning should never stop, especially with regard to leadership and personal development.
The good news is that soft skills, much like hard skills, can be taught. It's never too late for personal growth because becoming the best version of yourself is the job of a lifetime.
Opportunities for personal development come in many forms:
Personal growth workshops and keynotes are not just for your personal life, but your professional life as well. Team members who are motivated and purposeful with their careers and lives know it's important to make time to also nourish their mind, body, and spirit. Most speakers also offer interactive workshops and breakout sessions to help lock in the learning and change behavior.
It's no surprise that BigSpeak founder Jonathan Wygant was first inspired with the idea of BigSpeak while at a retreat in Esalen. Esalen has long been a place synonymous with personal growth and discovery. Their calendar is packed with various workshops throughout the year that are devoted to cultivating deep and lasting change.
Drs. Ron and Mary Hulnick, the University's Founding Faculty, established this educational institution offering Graduate Programs in Spiritual Psychology. The curriculum in Spiritual Psychology is designed to provide students with practical information, tools, and experiences that transform their consciousness and their lives. The University is dedicated to communicating the Principles and Practices of Spiritual Psychology worldwide through the process of Soul-Centered education. University students earn either an M.A. Degree or a Certification of Completion. The university also offers online courses and frequently host workshops
Insight Seminars focus on providing you with the tools to achieve your life goals. They help you achieve personal growth in things like developing deeper, more meaningful relationships, greater financial freedom, more vibrant health, and more confidence with your friends, family, and co-workers. BigSpeak has been an active participant in Insight seminars for over 20 years.
Founded in 1967, the Hoffman Institute is dedicated to transformative adult education, spiritual growth, and the personal dimensions of leadership, which take place during a week-long retreat.
TED and TEDx events are a great and accessible way to learn about a large range of subjects. This is because TED events bring together the world's most remarkable speakers from many fields, resulting in unexpected connections, extraordinary insights, and powerful inspiration. There are numerous TEDx talks going on around the country at any given time, and you can even bring TED to you by booking a TED speaker.  
Omega Institute workshops and educational programs, delivered by teachers, artists, healers, and thinkers on the leading edge of their disciplines focus on topics, such as sustainability, women's leadership, veterans care, and service. Programs are designed to connect science, spirituality, and creativity for personal and social change.
Leadership speakers address topics like team building, motivation, emotional intelligence, and peak performance. Leadership speakers also emphasize the point that leadership is not just about taking charge but most importantly about being of service to the team.
The organization is dedicated to helping people do more than just survive in their daily lives, but thrive in them. The site posts blogs and newsletters about health, wellness, and interpersonal communications, and also includes a shop of curated products that promote a thriving mind and body. Thrive also offers six week online courses that utilize scientifically proven methods to decrease stress and burnout and improve your overall health, happiness, and well-being.
Remember, personal and leadership development is a continual learning process. No matter your age, what you think you know, or what you have achieved, there will always be room for more growth, learning, and achievement.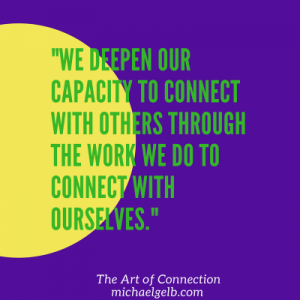 ---
The content writers at BigSpeak Speakers Bureau are Experts on the Experts. They hold doctoral, masters, and bachelors' degrees in business, writing, literature, and education. Their business thought pieces are published regularly in leading business publications. Working in close association with the top business, entrepreneur, and motivational speakers, BigSpeak content writers are at the forefront of industry trends and research.