Dec 17, 2014
How Technology Is Changing The Way We Plan and Experience Events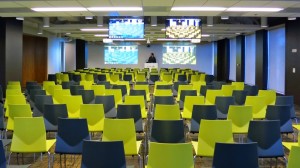 Events and event planning are evolving into new, dynamic formats. Old models are falling away and technology is giving both planners and event participants an opportunity to grow and revisit the underlying ideas about how event spaces work."It's been fascinating watching just how fast things have changed," said 
Brian Solis
, principal at
 Altimeter Group
, at a New York conference this year. He spoke about next steps and generational shifts in the ways we approach and interact with the events we attend.
1. From passive to engaged

The ways attendees' expectations have changed is due largely to technology in the event space.

"Event planners have mostly embraced the shift of thinking about attendees as passive audiences to engaged participants," says Brent Turner, vice president of solutions at Cramer. "The expectation for attendees is that they can be engaged. 
From the easy stuff — polling, contests, social curation — to environmental changes, such as how IBM has changed their product-demonstration approach at events, or a recent augmented-reality experience we created for UPS … to nuances like RFID tags that personalize digital signage, people expect to see themselves as part of an event."

2. Social media as a shared planning tool

Event participants already share their in-event experiences in real time viaTwitter, Facebook and the like. With that as a given, now comes a newer drive on the planner's side: To place more control of events in their audience's hands.

South by Southwest, for example, allows registrants to interact in the social space to pick panelists; some 30% of its panels are crowd-chosen in this way. Twitter contests can push for conversions by offering prize registrations, sure — but at your event, social platforms can create opportunities as well. Place prizes or gift cards at key locations and tweet a photo of them, for example. Attendees who find the rewards will be pleased, but perhaps even more importantly, planners can use the tech-augmented action to direct traffic to spots and programming that they want to emphasize.