Mar 14, 2017
BigSpeakSpotlight: Bert and John Jacobs, founders of the positive lifestyle brand Life is Good
Brothers Bert and John Jacobs are the founders of the positive lifestyle brand Life is Good and serve as CEO (Chief Executive Optimist) and CCO (Chief Creative Optimist), respectively.
John and Bert launched their business with only $78 in their pockets and sold T-shirts on the streets of Boston. Today, Life is Good is a 100 million dollar brand sold by over 2,000 retailers across the US and Canada.
The Life is Good brand spreads the power of optimism through art, a passionate community, and the integration of social work into their business model.
BigSpeak President Barrett Cordero says that he recommends Bert and John to "any organization looking to boost positivity and creativity within their team, build brand authenticity and a loyal customer base, and have some fun along the way." 
A Bert and John Jacobs keynote:
Will make you simultaneously laugh and cry

Is highly inspirational and heartwarmingly human

Is life changing…truly.  
John Jacobs
Bert Jacobs 
"In an auditorium filled with over 400 high school students, adults, and educators from across the US, Bert opened our hearts with his inspiring stories. His message of optimism and the power of kindness evoked a sense excitement, inspiration, and indeed bravery. We were honored to have partnered with Life is Good for the Emotion Revolution Summit and there is no doubt that his message moved everyone in the audience."

Cynthia Germanotta, President of Born This Way Foundation

"I've done events like this for over 10 years and I have never seen a crowd more inspired by a speaker than they were by John. Ever."

Conference Director, MA Conference for Women
Bonus: Their book, Life is Good: How to Live Life with Purpose & Enjoy the Ride also makes a great gift for event attendees.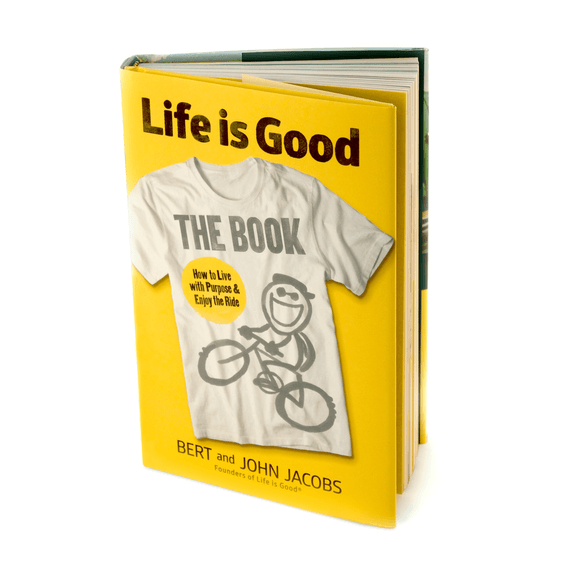 For more information about John and Bert Jacobs or to book them for your next keynote email us at Info@BigSpeak.com or call at 805.398.0280
---
The content writers at BigSpeak Speakers Bureau are Experts on the Experts. They hold doctoral, masters, and bachelors' degrees in business, writing, literature, and education. Their business thought pieces are published regularly in leading business publications. Working in close association with the top business, entrepreneur, and motivational speakers, BigSpeak content writers are at the forefront of industry trends and research.