Nov 16, 2016
Alex Hunter Awarded Travel Blogger and Vlogger of the Year
At the 2016 Travel Media Awards in London, Alex Hunter took home the Travel Blogger and Vlogger of the Year Award. The award was granted in recognition of Alex's work as host and creator of Attache, his new travel vlog that has been receiving a lot of buzz.
Attache is a new kind of travel show, created and curated for the experienced traveler to provide tips on transportation, food, money, and etiquette, and more.
The vlog was initially inspired by Hunter's own experiences with global travel. Hunter cites that he "found [himself] arriving in cities that [he had] never been to before and knew very little about. On any level. Culture, language, transport, money, food, etiquette, etc." It was then that he realized that modern travel content has not yet caught up with the modern day traveler.
"I wanted to create something different," says Alex, "Something aimed at the frequent traveler, something portable and short-form. Something…useful. The modern traveler doesn't have time for an hour-long travel show full of misinformation and cheesy tourist traps. They want accurate, well-researched, practical, on-the-ground information they can use on frequent, brief trips to cities around the world."
Being awarded Travel Blogger and Vlogger of the year is no small feat. The Awards were created in recognition of the hugely influential role that today's travel media play in the holiday or business travel decision-making process. While this is only the second year the Awards have taken place, they have grown in size and notoriety quite rapidly. Matthew Jackson, managing director of APL Media and co-founder of the Awards, notes that "this year saw over 600 entries across various categories, which is a 20% increase from last year."
The Travel Media Awards are really at the forefront of what is happening in the travel media industry. Because they are not aligned with any association or guild, it allows for an inclusive entry process and a larger, more diverse pool of industry vanguards from travel writers, broadcasters and photographers. Additionally, submissions are judged by some of the UK's most influential travel industry figures, along with leading travel writers and editors. This is what makes The Travel Media Awards a true barometer of the climate of the travel media sector.
Prior to Attache, Hunter has had an extensive career in media. He was the Head of Digital for Virgin Group where he curated the entire Virgin brand's digital strategy, as well as Sir Richard Branson's personal digital strategy. He is also a sought-after keynote speaker with additional expertise in branding, marketing, and customer loyalty.
A BigCongrats to Alex on the well deserved win!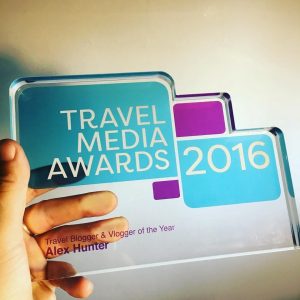 ---
The content writers at BigSpeak Speakers Bureau are Experts on the Experts. They hold doctoral, masters, and bachelors' degrees in business, writing, literature, and education. Their business thought pieces are published regularly in leading business publications. Working in close association with the top business, entrepreneur, and motivational speakers, BigSpeak content writers are at the forefront of industry trends and research.