Dec 2, 2014
Big Risk: Robyn Benincasa Risks it All as Firefighter
Here in Santa Barbara, with its confluence of clear skies, warm temperatures and unmatched spectacular vistas from the Santa Ynez Mountains to the Pacific Ocean, we're reminded daily of how blessed we are to call this amazing place home. We are also acutely aware that these very elements we celebrate are also the ones that make ours, a precarious paradise. This was especially evident over the past few weeks as our neighbors to the south endured horrific wildfires – fueled by hot, dry winds and a dearth of seasonal rainfall – that raged through San Diego County from Rancho Bernardo to Carlsbad. 
Many of our speakers and colleagues reside in the region and our thoughts, concerns and empathy are with them in such trying times. Our thoughts also turn to one speaker in particular, (and not just because she's difficult to book during scenarios like these) who tends to stand out in extreme crisis situations. When she's not competing in adventure races, triathlons, world-record paddling attempts or motivating, leading change and building teams on stage, Robyn Benincasa is a full-time San Diego firefighter.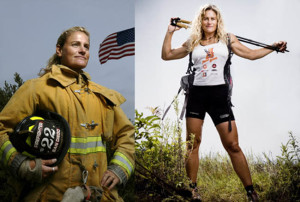 And she literally walks the walk on leading change. After being diagnosed with osteoarthritis Robyn now continues her blistering life pace on a pair of titanium hip replacements without missing a beat. In fact, two weeks ago, she was named a "CNN Hero" for her work with Project Athena, which helps women who have survived medical setbacks achieve athletic goals.
In light of the recent shooting tragedy that has befallen our own community, we realize the unique mindset a first responder must possess to motivate teams, overcome adversity and make crucial leadership decisions amidst chaos and crisis.

Whether she's on the front lines of a raging wildfire or racing through the jungles of Borneo, it is through these harrowing, life affirming and occasionally hilarious experiences in the world's most grueling challenges, that Robyn has emerged with a refreshing and unique perspective on what it takes to build the kind of world class teams that succeed against all odds, triumphant in the face of adversity and winning as one in times of great challenge and change.