Oct 11, 2019
BigSpeak Celebrates 5th Consecutive Year at Inc 5000 Conference & Gala
BigSpeak EVP Ken Sterling and Strategic Account Advisor Whitney Caldwell celebrated the company's fifth consecutive year climbing the ranks of Inc 5000's Fastest Growing Companies at the Inc 5000 Conference & Award Gala in Phoenix, Arizona on Oct. 11, 2019. Among the other thriving companies invited and the big names taking the stage Sterling saw a familiar face. 
BigSpeak Exclusive Speaker Jia Jiang presented his keynote, What You Can Learn From 100 Days of Rejection, offering advice on business rejections, overcoming failures, and overall keeping on. 
He helped celebrate how far the teams invited had come. Other speakers to grace the stage included actor and comedian Ken Jeong, retired MLB all-star Alex Rodriguez, co-founder of Away Jen Rubio, social psychologist Amy Cuddy.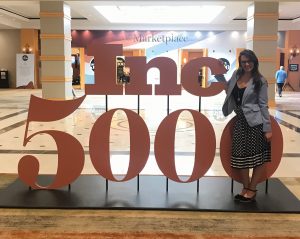 Whitney Caldwell exploring the Inc 5000 Conference