Dec 14, 2010
BigStories: Shaun Tomson Unveils Surf Creatures Phone App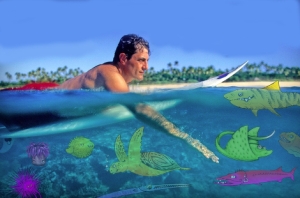 Just in time for the holidays, BigSpeak inspirational speaker and surf icon Shaun Tomson has unveiled Surf Creatures his latest interactive iPhone application.
From the familiar dolphin to the Xiphias Swordfish and the Zambesi Shark, Surf Creatures is a collection of 26 children's rhymes, one for each letter of the alphabet, about ocean creatures that live in the same waters Tomson surfed during his decades-long career. 

Already a keynote speaker and author of two books, Surfer's Code and Bustin' Down the Door, the idea of making a children's book came to him after the birth of his 14-month-old son Luke.
"It just kind of gives you a completely different perspective on life," Tomson said. "Suddenly I'm reading to him, singing to him, and making up rhymes." 
Enter the iPhone application. Apart from the pictures, words and an audio track of Tomson reading the rhymes, the application will have a recording capability, allowing parents and children to record up to four different people reading the track.

In addition to raising awareness about ocean animals, Tomson also wanted the application to inspire the same connection between parents and children that he felt with his children, "With modern technology you can create your own stories." 

This isn't the first application for Tomson, who earlier this year launched an iPhone application to provide helpful information when buying surfboards and related equipment. The application provides board and shape recommendations based on ability level, in addition to a 5,000-word surfing glossary and a listing of surf shapers and contact information.