Dec 29, 2018
Colin O'Brady: First Man to Complete a Solo Trek Across Antarctica
Adventure racer and motivational speaker Colin O'Brady conquered one of the last frontiers of the impossible and made history when he finished a 53 day, unaccompanied and unassisted crossing of Antarctica. What started as a test of personal strength and willpower turned into a race when British Army Captain Louis Rudd decided to attempt the same trek in hopes of stealing the title from O'Brady.
This last, great unconquered feat appealed to O'Brady as a physical and mental challenge, pushing his limits and relaying on nothing but his own body and mind. It was only days before the expedition that he met Rudd in a bar in Chile where they decided to turn their solo missions into a formal competition.
After their start was delayed several days due to weather conditions the two explorers began the race from the Ronne Ice Shelf on November 3, 2018. Men have crossed Antarctica before, but none have ever gone it alone with no backup or relief. O'Brady was pulling a 375 lb sled, containing everything he needed to survive, for 12-13 hours per day. He knew the trek would be unforgiving, and claims that by the end he lost so much weight his watch was sliding off his wrist.
While racing over the ice shelves O'Brady says he nearly missed many catastrophes. On a particularly stormy day, a white out made his travels nearly impossible. With Rudd at his heels he pushed on and says he's lucky to have not broken a leg with such low visibility.
Antarctica's harsh climate added several risks as well. The temperature is so cold that any moisture in the air freezes, technically making the continent a dry desert. It also claims the highest average landmass elevation with its highest peak at 9,613 ft. In this oxymoron of a place frostbite, dehydration, and elevation sickness are all fears one must prepare for. O'Brady took photos of himself with tape on his nose and face to prevent exposure leading to frostbite.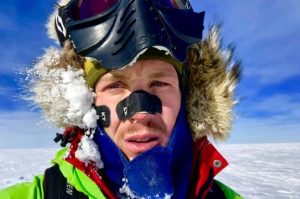 Despite the close calls, O'Brady reached the finish line at the Ross Ice Shelf on December 26, 2018, making him the first man to ever cross Antarctica with nothing but his will and a sled.
---
Jessica Welch is the Content Marketing Associate at BigSpeak Speakers Bureau, holding a Bachelor's Degree in English Literature and Anthropology from California Polytechnic State University, San Luis Obispo. Her business thought articles often appear on Business 2 Community, Born 2 Invest, and YF Entrepreneurs.