Jun 9, 2015
Conferences & Meeting Theme Ideas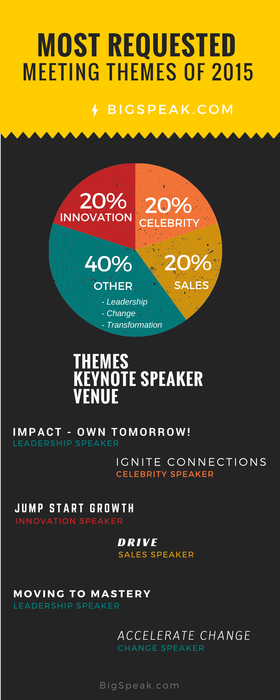 What's in a theme? It actually might be more than you expect. A conference and meeting theme is not only setting the tone for your conference, it's also the catalyst that will drive interest and attendance for your event. In today's business world, conference themes act as a great first opportunity to get people excited and inspired about an event. With the right theme, a meeting is suddenly transformed into an interactive experience where participants can seek expert advice, information and solutions to real-world challenges they face.
Above all, effective conference themes should address issues that are relevant and important to participants. As workplace challenges and dynamics are always changing, so then should effective meeting themes. To ensure you're staying up to date, we've highlighted some of the most commonly requested meeting themes in 2015 that may inspire your next conference or business event.
Innovation
Innovation is a buzzword that can be heard in nearly every business around the nation. So it's no wonder that 20% of people requested it as a conference theme. The power behind innovation is tremendous and has helped some of the biggest businesses around reach success. In fact, a recent survey conducted by Tech Pro Research found that 92% of respondents recognize the importance that innovation plays in their business success. In the same study, more than 60% of respondents reported that they think their company is more innovative than it was five years ago. Business leaders everywhere understand the strong link that exists between innovation and new business opportunities and are ready to invest time and energy into learning how to operate in a more innovative way.
Celebrity
About 20% of people requested celebrities for their meeting theme and can you blame them? Who doesn't want to be on the receiving end of celebrity success stories and winning advice? Celebrities play a big role in today's business world and can be powerful tools for conveying messages and engaging teams in key topics. As the line between entrepreneur and celebrity is often blurred in today's market (think Mark Cuban, Magic Johnson, Jay Leno), more businesses are turning to celebrities to deliver keynote speeches and conference presentations with that magic combination of entertainment and expertise.
Also See: What to Expect When Booking a Celebrity Speaker
Sales
Since business is all about growth and bottom lines, it's no surprise that sales was a common theme requested by 20% of people this year. As we navigate an ever-changing marketplace where consumers are changing how and where they spend their money, understanding how to capture more sales and reach more customers is crucial information that nearly everyone is eager to learn more about from top experts.
Leadership, Change, Transformation
Speaking of ever-changing marketplaces, topics like change, transformation and effective leadership topped this year's list of most requested meeting themes at 40%. That is a great indicator of the fast pace our economy is moving these days. As all leaders know, things move fast and knowing how to adapt and keep up can be half the battle when it comes to achieving success. Luckily, there are a lot of expert speakers out there, like Stan Slap and Lisa Kay Solomon, to fuel conferences and inspire teams to be fearless in the face of change.
For More Ideas on Keynote Speaking Trends
---
Ken Sterling is the Executive Vice President and Chief Learning Officer at BigSpeak Speakers Bureau. Ken's main focus is marketing and partnering with our Fortune 1000 clients to create specialized consulting programs with effective leadership development objectives. Ken has been working with BigSpeak from the early days (nearly 20 years) as an advisor to Mr. Wygant and a consultant to the company in the areas of growth, strategy, marketing and sales development.