Feb 14, 2018
How to Grow to Be an Industry Disruption
Mark Thompson—business speaker, executive leadership coach, entrepreneur, venture investor, and bestselling business author—was recently featured on the cover of American Management Association for his revolutionary ideas about transformational growth and disruptive change.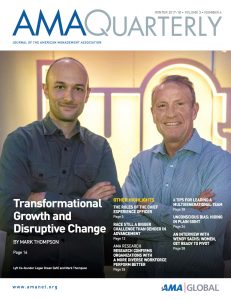 In his two-part article series, Thompson explains the way high-achievers in the business world today use disruptive change to their advantage.
In the first piece, Thompson focuses on principles that we should use to guide our views on transformational growth in order to have success like the pros. He cites World Bank, Virgin Group, Pinterest and Lyft for their creative utilization of disruption.
Thompson narrows down transformation growth to four main principles:
In Thompson's follow up article, he shifts from individual to established leaders. He looked at the driving factors for disruptive and visionary leaders and found three consistent things to be true; purpose, performance, and passion were common threads with the fabric of their companies.
"Purpose means that you're pursuing a mission or ideal that's larger than you as an individual; it could be a company, community, or other organizational ideas. Some people think of this as their legacy.

Performance means that you're driven to produce results and have an impact for that Purpose—it's something you care enough about to collaborate and even compete to win.

In this context, passion is what drives your heart more than your head. It's what you'd secretly do for free because it intrinsically motivates you."
Read Mark Thompson's full articles at American Management Association–
Transformational Growth and Disruptive Change: 4 Principles to Guide You
Transformational Growth and Disruptive Change: What Drives Leaders' Behavior?
---
Jessica Welch is the Content Marketing Associate at BigSpeak Speakers Bureau, holding a Bachelor's Degree in English Literature and Anthropology from California Polytechnic State University, San Luis Obispo. Her business thought articles often appear on Business 2 Community, Born 2 Invest, and YF Entrepreneurs.