Jun 25, 2021
James Clear's Atomic Habits Recently Featured in WSJ's Bestselling Books List!
BigSpeak motivational Speaker James Clear's book, Atomic Habits was featured three times in the WSJ Bestselling Books Week Ended June 12, under the topics of Hardcover Nonfiction, Nonfiction E-Books and Nonfiction Combined. Yet, we aren't surprised — when the book first came out, it was an instant New York Times Bestseller and continues to be, with over 4,000,000 copies sold worldwide!
Packed with self-improvement strategies, Atomic Habits by James Clear teaches readers how to make the small changes that will transform their habits and deliver remarkable results. The phrase "Atomic Habits" refers to the series of decisions you make throughout the day about who you'll be in the future. Developing a set of healthy habits to follow on autopilot creates room for a more productive and peaceful lifestyle.
There's no question why James Clear's book has been flying off the shelves, it offers a proven framework for getting 1 percent better every day — who doesn't want that? Readers have even submitted their own testimonials on the book, "I jump out of bed every morning without any hesitation. The reason? The only way to turn off my alarm is to scan a QR Code I keep in the bathroom. This worked wonders for me."
Atomic Habits is so prevalent, it was just a question on the famous show, "Jeopardy."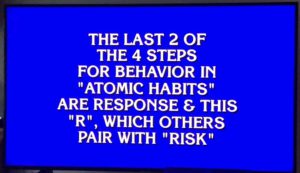 Another reader wrote, "I added up all the sodas I drank for the week and counted how many tablespoons of sugar were in those soda cans and bottles. I began to scoop the amount of sugar into an enormous bowl. The visual did it for me. I had to break that habit."
Got a nasty habit you're trying to break? James Clear's Atomic Habits is the ultimate guide on how to replace poor habits with healthy ones.
James Clear and many of our other inspiring and informative motivational speakers are available for your next event! Please contact us at info@bigspeak.com to inquire.