Mar 27, 2017
An Exclusive Excerpt from Kevin Mitnick's New Book "The Art of Invisibility"
Hackers.
It takes one to know one.
And there is no one like Kevin.
Kevin Mitnick has been dubbed "The World's Most Famous Hacker." He was once on the FBI's Most Wanted list because he hacked into 40 major corporations just for the challenge. Kevin is now a trusted security consultant to the Fortune 500 and governments worldwide. Kevin and The Global Ghost Team™ now maintain a 100 percent successful track record of being able to penetrate the security of any system they are paid to hack into using a combination of technical exploits and social engineering.
He is also a global bestselling author and a top cybersecurity keynote speaker. During the month of February alone, Kevin gave seven presentations to two different clients, both to record crowds and high acclaim.
Kevin offers a sampling from his new book The Art of Invisibility: The World's Most Famous Hacker Teaches You How to be Safe in the Age of Big Brother and Big Data:
Always use a password manager to manage your passwords
You only have to set a master password—which should be a favorite lyric or quotation. Make sure it's at least 25 characters long!
Most websites these days offer two-factor authentication
Every time you go to the ATM, you use two-factor authentication. Your ATM card is something you have and the PIN is something you know. When you set up two-factor authentication, you use your mobile phone as the second authentication factor. When you log into the website with your correct username and password, the site may send a code via text message, or you may use an app downloaded to your mobile phone for you to enter into the site to confirm your identity.
Always connect to a VPN service
Whenever using a free or open wireless network at the airport, coffee shop, or hotels your communications on the wireless network can easily be intercepted and monitored. The first rule when using an open/free wireless network is to immediately connect to a VPN service. You can subscribe to these services for $5 a month.
For more, we suggest you pick up a copy. Though don't just take our word for it:
"Kevin's book is a must-read in this new world."—Steve Wozniak, Co-founder of Apple.
As a one-of-a-kind public speaker, Kevin's presentations are akin to technology magic shows which include the latest hacking techniques that educate and inform while keeping people on the edge of their seats. He offers expert commentary on issues related to information security and increases "security awareness." Kevin has been a commentator, security analyst, or interview subject for almost every major news outlet around the globe.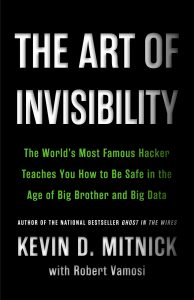 To book Kevin Mitnick for your next event, contact BigSpeak at Info@Bigspeak.com
---
The content writers at BigSpeak Speakers Bureau are Experts on the Experts. They hold doctoral, masters, and bachelors' degrees in business, writing, literature, and education. Their business thought pieces are published regularly in leading business publications. Working in close association with the top business, entrepreneur, and motivational speakers, BigSpeak content writers are at the forefront of industry trends and research.