Jul 29, 2019
SHARK WEEK SPECIAL—BigSpeak Sponsors and Names Great White Shark, Kevin O'Leary
To celebrate the blood-thirsty entrepreneurial instincts of BigSpeak's newest exclusive speaker and Shark Tank's most notorious shark, Kevin O'Leary, we've sponsored and named a great white shark after him. 
Meet (shark) Kevin O'Leary. He also goes by BigKev, Ocean Kevin, and Mr. Muncherfull. Although he doesn't yet respond to any of his names, we're working on it, and it helps to get his attention if you have some chum in hand.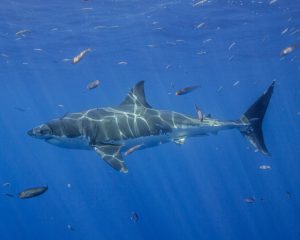 After surveying the sharks available through the Marine Conservation Science Institute's Name a Shark Program, BigSpeak decided on shark Kevin O'Leary because of his uncanny resemblance to human Kevin O'Leary—strong and fierce, yet a hint of a smile that lets you know there's nothing to fear; he's only out for blood in the boardroom. 
Kevin O'Leary was first photographed at Guadalupe Island, Mexico in 2016, where he vacations from summer to autumn. He spends the other portion of the year in the middle of the Pacific Ocean hunting between Hawaii and Baja California. If we're lucky (or unlucky) Kevin O'Leary may even pay a personal visit to the coasts of central and southern California, as is common for adult male great whites. 
If patience isn't your forte and you want to meet (shark) Kevin O'Leary, MCSI is leading a 2019 Guadalupe Island Expedition from October 30 to November 4 aboard the Nautilus Explorer where you can cage dive with great white sharks.
Our donation to the Marine Conservation Science Institute supports the institute's meaningful research and conservation efforts. While we had A LOT of fun with our latest donation, it also supports our core values and our commitment to the community and the environment. 
If you book Kevin O'Leary (the human) during August, the rightful month of sharks, BigSpeak will make a $100 donation to the Marine Conservation Science Institute in your name. Bring a BigFish to your next event by booking a shark, while also helping the environment and the sharks that are near and dear to our hearts.
---
Jessica Welch is the Content Marketing Associate at BigSpeak Speakers Bureau, holding a Bachelor's Degree in English Literature and Anthropology from California Polytechnic State University, San Luis Obispo. Her business thought articles often appear on Business 2 Community, Born 2 Invest, and YF Entrepreneurs.