Erik Qualman's Key Accomplishments Include . . . 
Called the Tony Robbins of Tech, Erik Qualman is the author of Socialnomics, Digital Leader and What Happens in Vegas Stays on YouTube. He was been nominated for the 2015 Pulitzer Prize. Socialnomics made Amazon's #1 Best Selling List for the US, Japan, UK, Canada, Portugal, Italy, China, Korea and Germany. His book Digital Leader helped him be voted the 2nd "Most Likeable Author in the World" behind Harry Potter author J.K. Rowling. What Happens in Vegas Stays on YouTube is his 2014 release and it is already being adopted by the top universities and global brands.
Qualman has performed in 42 countries with: Coach, Chase, Sony PlayStation, National Restaurant Association, IBM, Facebook, SCG Thailand, ADP, Starbucks, M&M/Mars, National Retail Federation, Cartier, Bertelsmann, Raytheon, Chrysler, Small Business League, Montblanc, Dairy & Deli Association, TEDx, Polo, UGG, Nokia, Google, AutoTrader and others. Qualman gave the commencement address at the McCombs Business School (University of Texas).
Why Erik Qualman?
"Erik Qualman's keynote was the highlight of our Starbucks Conference.  He is one of the most engaging and entertaining speakers I've come across, and was able to make the content relevant to our audience and fitting to our theme.  His depth of insight and breadth of examples have prompted us to shift our thinking to stay connected to our partners and our customers. " — Katya Cautillo, Recruitment Manager | Starbucks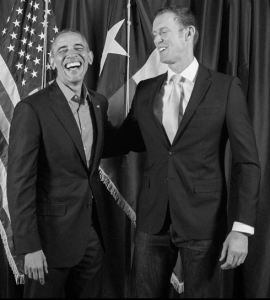 He has had the fortune to share the stage with: Al Gore, Julie Andrews, Magic Johnson, Malcolm Gladwell, Bill O'Reilly, Jeff Bezos, Howard Schultz, Brett Favre, Tony Hawk, Sarah Palin, Jose Socrates, Alan Mulally, and many others of note. He is listed as a Top 50 MBA Professor and is no stranger to the executive suite, having served as the Head of Marketing at Travelzoo (TZOO); today he sits on several company boards. Yet, he may be best known for writing and producing the world's most watched social media video. His work has been highlighted on 60 Minutes, The New York Times, WSJ, Mashable, USA Today, ABC News, Financial Times, Forbes, Fortune, CBS News, and The Huffington Post. He also achieved the Guinness Book of World Records for the longest continuous podcast.
Socialnomics was a finalist for the "Book of the Year" and socialnomics.com, is ranked as a Top 10 Blog (PC Magazine). Fast Company lists Professor Qualman as a Top 100 Digital Influencer. He made Forbes Top 50 Power Influencers list. Qualman has an MBA from the McCombs School of Business.
More About Speaker Erik Qualman:
Qualman is a MBA Professor at the Hult International Business School. For the past 18 years Qualman has helped grow the digital capabilities of many companies including Cadillac, EarthLink, EF Education, Yahoo, Travelzoo and AT&T. He is the founder and owner of socialnomics.com, which PCMagazine ranks as a Top 10 Social Media Blog. He sits on the Boards of Manumatix, Bazaarvoice Inc., and WannaBeeSocial. Qualman holds a BA from Michigan State University and an MBA from The University of Texas.
In 2011 Qualman was honored as the Michigan State Alum of the Year and in 2012 he was selected as one of the Top50 Professors in the world. He was Academic All-Big Ten in basketball at Michigan State University and still finds time to follow his beloved Spartans while living in Boston with his wife and two daughters.