May 13, 2015
The World's Top Keynote Speakers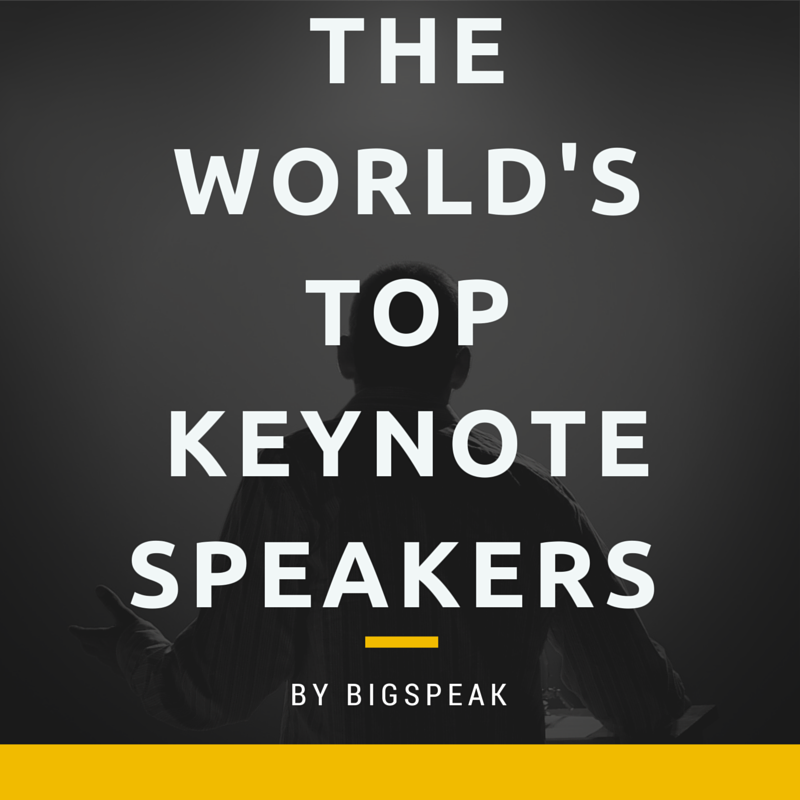 There are more than 7 billion people in the world today but none of them are as well regarded as these business experts. We've compiled a list of the world's top keynote speakers who businesses flock to for insights on sales, leadership, investments, teambuilding and organizational management.
While they come from all backgrounds—from NBA team owners to branding geniuses to ex-fighter pilots—these experts all have incredible stories and insights that are nothing less than awe-inspiring. Read on for more about the best of the best and how they're helping businesses to make big strides toward success.
Stan is a thought leader and author of many bestselling books that offer top business leadership insights, including the New York Times bestseller Bury My Heart in Conference Room B and Under the Hood. He is the President of SLAP, an internally renowned consulting firm that has helped top businesses improve their manager, employee and customer culture. Stan is one of the world's top leadership keynote speakers for his results-driven strategies and impactful presentations.
Lt. Col. Rob 'Waldo' Waldman has an extensive background as a combat fighter and uses his expertise to consult with businesses on leadership and organizational culture best practices. He addresses the importance of trust and relationships in his bestselling book Never Fly Solo and is one of the world's top keynote speakers for his inspiring personal stories that parallel perfectly to organizational business success.
Jason brings years of research and hands-on business development experience as one of the world's top leadership and keynote speakers. He was the youngest radio station group owner in the world and later developed the largest media consulting firm in the world. Jason conducted thorough research to discover insights into the world's "fastest" companies and based his bestselling book, It's Not The Big That Eat The Small – It's The Fast That Eat The Slow, on it. He combines his research and insights to deliver customized business presentations for some of the top businesses in the world and stands as a highly inspirational leadership and motivational speaker.
Liz is a top woman leadership keynote speaker for her groundbreaking leadership research and expertise. She is President of a leadership and development firm, The Wiseman Group, where she conducts leadership forums for clients like Apple, GAP, Inc., and Microsoft. Liz is credited with conducting insightful research on leadership and collective intelligence and authored the bestselling book Multipliers:  How the Best Leaders Make Everyone Smarter. Her cutting-edge strategies and insights on leadership have made her one of the world's top business keynote speakers.
Douglas stands as one of the world's top keynote speakers for his effective approach to improving organizational leadership. He is the Chairman of Avon Products and the Kellogg Executive Leadership Institute at Northwestern University. He is credited with more than 20 years of business success, including transforming organizational leadership and boosting employee engagement as CEO of the Campbell Soup Company. Douglas is also the co-author of the bestselling book Touchpoints: Creating Powerful Leadership Connections in the Smallest of Moments. His leadership insights as a top business executive and keynote speaker are hugely effective in improving results in businesses around the world.
Ben is a successful entrepreneur and executive who developed an e-government software company, Comcate. His cutting-edge insights have made him one of the world's top keynote business speakers in the industry. He has co-authored several books, including #1 New York Times bestseller The Start-Up of You: Adapt to the Future, Invest in Yourself, and Transform Your Career (with Reid Hoffman). He is has appeared on Charlie Rose, CNN and served as a top business keynote speaker across the world.
Eric uses captivating stories from his experience playing in the NFL to coach some of the finest companies in the world on performance, leadership and team dynamics. He is the President of a training and development consultancy that helps businesses enhance their culture to reach higher performance levels. As one of the world's top keynote speakers, Eric presents his thought provoking insights and strategies to thousands of people every year.
Mark is a top leadership keynote speaker and venture capitalist who brings effective solutions to today's leadership challenges. He is CEO of Virgin Unite Mentors, Sir Richard Branson's network for executive coaching and entrepreneurial innovation. Mark is a bestselling author and Tony-nominated Broadway producer who applies his expert innovation to achieve success. He provides an original, highly sought after perspective as a top motivational speaker and inspires businesses with his executive leadership expertise and solutions.
Simon is a leadership imagineer and thought leader whose insights have made him one of the world's most in demand keynote speakers around. As the Founder of Brilliance Institute, Inc. and the former Sales Director of the Disney Institute, his cutting-edge insights on leadership development have helped emerging leaders and businesses around the world. Simon has been named one of the top "25 hot speakers" and Meetings and Conventions Magazine noted that he is "one of the best keynote speakers ever heard or used." He is also an accomplished author of seven leadership books, including Release Your Brilliance: The 4 Steps to Transforming Your Life and Revealing Your Genius to the World. As one of the foremost leadership experts, Simon has presented powerful keynote speeches around the world for more than a million people and high-profile businesses.
Tan is a telecommunications entrepreneur and CEO of bioinformatics company, Emotiv. She was a TED talk guest speaker and has been named one of Australia's 30 Most Successful Women under 30 and Young Australian of the Year. Tan was listed on Forbes' 50 Names You Need to Know in 2011 and has been honored by the World Economic Forum as a Young Global Leader. As one of the most successful women business speakers in the industry, Tan is among the world's top speakers for her cutting-edge knowledge and business insights.
Envisioning airplanes? Or maybe your favorite band? That's because Richard is Founder and President of Virgin Group, one of the world's most recognized brands that spans across industries, including aviation, hospitality and leisure, telecommunications, financial services, health and wellness, and clean energy. As an entrepreneurial heavyweight, Richard was awarded knighthood for his serves to entrepreneurship. He is road to success has inspired businesses around the world and he remains one of the world's top keynote speakers for his stellar business insights and acumen.
Mark is a maverick in business, so it's fitting that he's also the Owner of the NBA's Dallas Mavericks. He also owns Landmark Theatres, Magnolia Pictures, is Chairman of HDNet and stars on ABC's Shark Tank. Mark's incredible story as a hugely successful entrepreneur is chronicled in his book How to Win at the Sport of Business. He has gained a reputation for excellence in the media and technology industry and combines his business know-how with his entertaining personality as one of the world's top keynote speakers.
Magic is a world-renowned NBA Hall of Fame All-Star, entrepreneur, philanthropist and motivational speaker. He is Chairman and CEO of Magic Johnson Enterprises, which provides products and services to ethnically diverse urban communities. Similarly, the Magic Johnson Development Corporation develops businesses and commercial property in neglected minority neighborhoods. He is also co-owner of the Los Angeles Laker, Los Angeles Dodger and Los Angeles Sparks. Magic is one of the world's top motivational business speakers who offers original insights as an athlete, entrepreneur and HIV survivor. 
Daymond is a dynamic business speaker and entrepreneur with a track record as a sales expert and marketing and branding expert. He is founder and CEO of FUBU clothing line, where he used his guerilla marketing and branding techniques to grow the company to $350 million in annual sales. Daymond is a bestselling author to various books, including Display of Power: How FUBU Changed a World of Fashion, Branding and Lifestyle and stars on ABC's reality TV show, Shark Tank. He is known as one of the world's most powerful business speakers due to his motivational insights on achieving the "American Dream."
---
The content writers at BigSpeak Speakers Bureau are Experts on the Experts. They hold doctoral, masters, and bachelors' degrees in business, writing, literature, and education. Their business thought pieces are published regularly in leading business publications. Working in close association with the top business, entrepreneur, and motivational speakers, BigSpeak content writers are at the forefront of industry trends and research.