Jun 13, 2017
Warriors Win 2nd NBA Championship & Teach Us a Lesson in Teamwork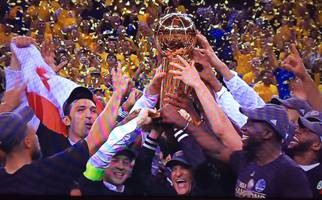 After a respectful rivalry spanning three Championship seasons, the Golden State Warriors and the Cleveland Cavaliers faced off again in this year's NBA finals, where the Warriors defeated the Cavaliers in the fifth game with a close final score of 129 to 120.
The Warriors, who beat the Cavaliers in the 2015 Finals, only to lose to them last year, went a remarkable 15 wins for 1 loss in the 2017 playoffs, and this win marks their second NBA championship in three seasons.
The fact that these two teams have emerged not only as worthy adversaries to each other but also as NBA heavyweights is remarkable. Before their Championship win in 2015, the Warriors experienced a 40-year championship drought and the Cavaliers had never won the title.
The current ownership group of the Warriors–led by Peter Guber and Joe Lacob–made an incredible bet on this organization when they took over in 2010. They took over with the vision that they wanted to build not only a great team but an organization that could achieve lasting success and bring pride to the whole Bay Area. The secret to the team's turnaround? Guber cites a big change in the team's culture: "Culture became the mantra of the Golden State Warrior business plan. We instilled a culture that supported risk, embraced uncertainty, and accepted failure as an inevitable part of the process. These three ingredients," he says "created the secret sauce, and it can be your secret sauce regardless of your business, profession, or position." 
The Warriors' slogan "Strength In Numbers" truly speaks to the culture of the organization. From the owners to the last man on the bench, they know that no one can do anything worthwhile alone. When asked about the tremendous achievement, Guber did not cite the efforts of any particular player, play, step leading up to the championship, or stroke of luck–rather Guber notes that the Golden State Warriors are an incredible organization, who work hard both on and off the court, prioritize teamwork from all parties involved, and most importantly, develop a phenomenal culture which leads the organization to achieve greatness.
"I can be appreciative of everybody's success and everybody's participation in it and recognize that this isn't an individual, it's a team. It's not a collection of players, it's a team, it's an organization, it's a culture. Businesses that have culture have winning records, and they aspire–not just perspire–to greatness. I really think this organization, this team, these players, they bonded, and they made that magic happen. I was along for the ride. I love it." – Peter Guber  
Congratulations to the entire Golden State Warriors organization for an amazing season and for showing us all how teamwork really does lead to success at the highest levels!
---
Daria Waggner is the Events Manager at BigSpeak. She is a veteran marketing and sales professional with broad-based experience in organizations ranging from start-ups to Fortune 100 companies in the software, e-services, education, retail, semiconductor, and petroleum industries. Daria earned her Master's degree in Management Science and Engineering from Stanford University with concentrations in High-Tech Marketing, Entrepreneurship, and Organizational Development
Amber McEldowney is the Marketing Manager at BigSpeak. She is happy to keep BigSpeak's followers engaged and entertained by providing informative and amusing content for BigSpeak's newsletter, website, social media outlets, and blogs.   Amber is a graduate of the University of California, Santa Barbara with a double major in Environmental Studies and Sociology.