Feb 8, 2017
The Art of Pre-Suasion with Robert Cialdini
Robert Cialdini, social psychologist, "Godfather of Influence," and bestselling author of Influence: The Psychology of Persuasion, has done it again with his newest and much anticipated best-selling book Pre-Suasion: a Revolutionary Way to Influence and Persuade.
With a Ph.D. from the University of North Carolina, postdoctoral work completed at Columbia University, and more than 30 years of research in the field of psychology of influence, Robert is easily one of the most cited social psychologists in the fields of influence, persuasion, and negotiation. The release of Influence in 1984 introduced the world to the power of science-based persuasion and inspired a generation of psychology enthusiasts
Pre-Suasion, Cialdini's first solo book in over 30 years, is ranked #1 on Amazon's bestseller list, and quickly jumped to the top of the New York Times and Wall Street Journal bestseller lists. 
Pre-Suasion reveals that the key to persuading and influencing people does not lie in the message alone but in the moments just before the message is delivered. This is the pivotal moments when the receiver may be prepared to be at their most open and receptive state. To change "minds" the persuader must also change "states of mind." In other words, the artful diversion of attention gets your targeted audience primed and ready to say, "Yes."
The Huffington Post recently named Cialdini the number one Influence Expert of 2016 
Currently, Dr. Cialdini is Regents' Professor Emeritus of Psychology and Marketing at Arizona State University. His consultancy, Influence at Work, focuses on ethical influence training, corporate keynote presentations, and the CMCT (Cialdini Method Certified Trainer) program. His clients include such organizations as Google, Microsoft, Cisco Systems, Bayer, Coca Cola, Merrill Lynch, Pfizer, IBM, Prudential, The Mayo Clinic, The Weather Channel, the United States Department of Justice, NATO,
To book Robert Cialdini for speaking engagements contact Bigspeak Speakers Bureau at (805) 965-1400, or email at info@bigspeak.com.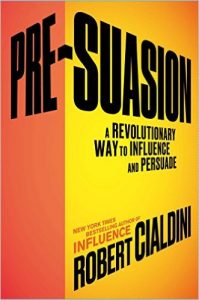 ---
The content writers at BigSpeak Speakers Bureau are Experts on the Experts. They hold doctoral, masters, and bachelors' degrees in business, writing, literature, and education. Their business thought pieces are published regularly in leading business publications. Working in close association with the top business, entrepreneur, and motivational speakers, BigSpeak content writers are at the forefront of industry trends and research.