Webinar Essentials
Webinars and virtual events are a great way to connect with your audiences all over the world. You can reach more people and provide great resources. The webinar recording is also a great content resource for your website that your attendees can use over and over again.
If you're planning your first webinar or virtual conference, here is a quick list of essential equipment and materials you will need.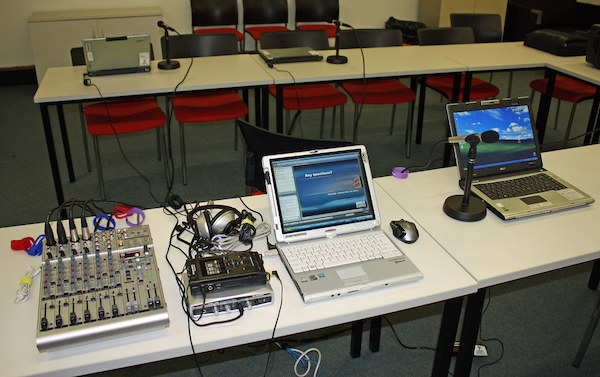 Computer 
For hosting a virtual meeting, all you need is a computer, laptop, tablet, or mobile phone with wifi or an ethernet connection. What device you use depends on the nature of the event. Informal events could be hosted on a handheld mobile device; however, for more formal events you would want a computer so you can use slide share software.
Whatever device you use, make sure your software is up-to-date and the device is either plugged in or fully charged.
Webcam 
For video, most devices now have a camera built-in. If your computer does not have a camera, you can purchase a webcam you can clip to your computer or rest on a surface. 
The level of video quality you choose (e.g., HD or standard) depends on how fast your internet is. You can broadcast in higher quality if you have a faster connection.
External Microphone 
People need to hear what you are saying. For the best sound, invest in an external microphone. Use a discrete headset (with a microphone), earbuds, or a stand-alone microphone that can rest on a flat surface. You could also use a lavalier microphone to attach to your clothing for a more discrete approach.
Avoid using the built-in microphone of your computer or mobile device. The quality is not as high as external microphones and those microphones pick up a lot of background noise, which can be distracting. 
Virtual Meeting Software 
To connect with your audience, you'll need to use a webinar or virtual meeting software. For small or informal meetings, use free software like Google Chats, Facetime Live, or YouTube streaming.
For larger audiences and formal events, you will want to use more professional software platforms. These platforms can host hundreds and thousands of people. See a list of the top five virtual meeting software platforms.
Fast Internet Connection 
For a great broadcast, you will need a fast internet connection. Nothing's worse than a webinar or conference where the image freezes or the audio goes in and out. (Test your internet speed here.)
If your home or office does not have fast internet, find a location like a collective working space that provides fast internet. They could also provide a great webinar broadcast room.
Slide Share Software 
For sharing your ideas, graphics, and images on screen, use your favorite slide share software: PowerPoint, Keynote, etc. Make sure your presentation and resources are on your desktop so you can quickly access them.
For balanced presentations, follow the 10-20-30 rule. Use no more than 10 slides, present for about 20 minutes, and have the text on the slides at 30 point font.
Studio Location
You can host a webinar in your office, home, or anywhere as long as you control for these factors.
Quiet:

Choose a quiet location. You want a room with very little or no echo for the best sound. A place with carpet and curtains to absorb sound. Avoid noisy coffee shops and airport lounges, and rooms with wood or linoleum floors that will bounce sound around.

Well Lit:

Your room should be well lit so people can see you. Rooms without windows and ceiling lights are best for neutral lighting. If you sit in a room with a window, don't face the direct sunlight or you will be washed out and blinking. Don't face the camera to a bright window or light source, or you will be cast in shadow.

Neutral background:

Choose a neutral background like a cloth backdrop, wall, or bookcase so the focus is on you, and not what's behind you. Some people do shoot webinars with a street background to provide movement, but unless you're an experienced broadcaster, avoid active backgrounds.
Wardrobe
Dress like you're presenting on stage or in a workshop. If you normally present in a suit, wear a suit. If you're a casual presenter, dress casually. Just be aware the camera only sees from the waist up, unless you stand away from the camera. 
Practice
Before you do any presentation, practice, practice, practice. Do a trial run with your co-workers or a small group of friends to make sure the sound, video, and software are working and that you are comfortable with the controls. The high quality of your content won't matter if you look clueless using the software.
Presenting online demands the same amount of preparation as presenting in person. We recommend doing a trial run with the software first, just like you would do an A/V test. Then do at least one practice run of the entire presentation before the webinar broadcast day.
For More Information See
Top Five Virtual Meeting Software Platforms