Mar 6, 2020
Top Business Keynote Speaking Topics
Here are the top 11 most-requested business keynote speaking topics in 2019. After examining our event data, BigSpeak found motivation, innovation, and leadership were the three most popular trending keynote topics in 2019. Companies also want to learn more about storytelling for business, resilience, and emotional intelligence. See the full list below.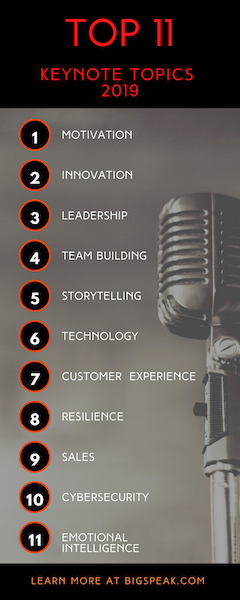 We all need motivation from time to time to excel and reach our goals. Nothing motivates us more than stories from company founders, championship athletes, and extraordinary individuals who have overcome setbacks and adversity to reach their goals.
One question all companies want answered is "How do we come up with great ideas?" If you want to know how to innovate, then successful startup CEOs, creative artists, and innovation researchers can provide insights on how to construct teams and reframe problems to find new solutions.
All companies need great leadership, but how do you create great leaders? Companies want to hear leadership tips from former CEOs, company founders, and top thought-leaders on how they can inspire their teams and empower their employees.
Google found teams that work well together are more productive and creative. To find the secrets of great teamwork, businesses hear from top athletes, company founders, and former military leaders on how teams can better communicate and collaborate.
Why is storytelling such a hot business topic? Storytelling is at the heart of the human experience. Whether we are talking about our day, pitching a business to an investor, or communicating with a customer, we all use the framework of stories to inform people and move them to action.
It's no surprise technology is on the mind of business leaders. Companies want to hear from engineers and futurists how their industry will be affected by developments in machine learning, robotics, artificial intelligence, and more.
When we have a great experience, we want to repeat it, whether it's going to Disneyland or buying a sandwich. Companies like Starbucks and Zappos found success by selling a common product (coffee and shoes) and giving a great experience. Now businesses want to know how to provide customers with a great experience (CEX) through every step of the customer journey in order to develop customer loyalty. 
The business world can be tough for employees and CEOs alike. We all fail more than we succeed. So companies learn how to bounce back from disaster and adversity with tips from championship athletes, CEOs of successful businesses, and bestselling authors on performance.
All companies want to sell more—but what's the secret? Companies get tips from successful salespeople on how to establish rapport, build credibility, and ask questions to provide a customer solution that increases the bottom line
Every week brings news of a company that has been hacked. Organizations that want to protect their data learn from hackers and government officials on the cultural and technical changes necessary to keep information secure.
Businesses run on people. Emotional intelligence is key to getting along in relationships with your colleagues and your customers. Expert researchers show you how to communicate and empathize with co-workers and clients.
For More Information Also See
6 Trending Keynote Topics and Why They're so Timely
Top Booked Keynote Speaker Lists
---
The content writers at BigSpeak Speakers Bureau are Experts on the Experts. They hold doctoral, masters, and bachelors' degrees in business, writing, literature, and education. Their business thought pieces are published regularly in leading business publications. Working in close association with the top business, entrepreneur, and motivational speakers, BigSpeak content writers are at the forefront of industry trends and research.