Dec 2, 2014
Cold Calling is Dead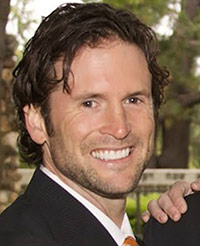 And we know who the killer is. In fact, we just signed him exclusively.Aaron Ross graduated from Stanford University, the Boulder Outdoor Survival School and is a former Ironman triathlete, but what's even more impressive is the system he created as one of the key architects of the sales organization at CRM provider Salesforce.com (and now, available for any organization's sales force) that will change the way you look at b2b sales, marketing and how your company generates and converts leads into predictable revenue (even at $3 billion in revenue and 10 years after it was first implemented, Salesforce.com still uses this same basic framework for its teams around the world).
Aaron is the author of Predictable Revenue: Turn Your Business into a Sales Machine with the $100 Million Best Practices of Salesforce.com. An amazon #1 best-seller, the book, which Inc. magazine called "The Silicon Valley sales bible" has become the default guide for growing startups and companies interested in optimizing sales. 
Ross argues that the traditional sales model puts teams on a feast-or-famine rollercoaster.
He recommends creating three distinct roles to counter this: outbound prospectors, inbound lead qualifiers, and quota-carrying salespeople. The prospector's sole purpose is to create qualified new opportunities (not set appointments) for the salespeople. The qualifiers do nothing but qualify inbound leads and pass them on to the sales team. The sales people only deal with qualified leads and manage them through the close. 
Ross doesn't demonstrate how to cold call or close deals, rather he illustrates:
How an outbound sales process, without cold calls or a marketing budget, can generate a 9% response rate and millions of dollars from cold prospects.
"The Seven Fatal Sales Mistakes" CEOs and Sales VPs (even experienced ones) make time and time again.
How outbound sales and selling can be friendly, helpful and enjoyable.
How to develop self-managing sales teams, turning your employees into mini-CEOs.
And more…
Aaron Ross shows companies ready to eliminate lead generation as a bottleneck to business growth, how to build a system that produces a reliable flow of qualified leads month after month, year after year, and routinely sees them triple their pipeline of qualified leads and new sales.